Alfred Kubin, "an artist who has yet to be truly discovered," according to the catalog of a wide-ranging exhibition at the Shepherd Gallery, on the Upper East Side, will strike some viewers as several different artists. His friend Kafka, who admired Kubin as a novelist as well as a visual artist, noted in 1911 that he "looks different in age, size, and strength according to whether he is sitting, standing, wearing just a suit, or an overcoat," an observation that might be modified to describe Kubin's varied art as well.
Kubin's spidery drawings in a Symbolist mode, suggesting Goya's hallucinatory but deadpan Caprichos (an acknowledged influence) as well as the oneiric fantasies of Odilon Redon (whom Kubin visited in 1906), would alone secure him a distinguished place in the history of German and Austrian art at the turn of the century. I will not soon forget the sinister crab in Kubin's The Moment of Birth (1903), scooping human babies from the water and flinging them onto shore—an image all the more piercing for the seeming happiness of the babies, one trustingly clutching the crab's pincer while another, already launched on the uncertain journey of life, skips forth in delighted anticipation.
As though to explain where such fantasies came from, Kubin wrote a novel, the phantasmagorical Die Andere Seite (The Other Side, 1909), about a dream kingdom dedicated to the rejection of progress—"a place of asylum for those who are disgusted with modern culture." Much admired by Hermann Hesse and Ernst Jünger, the book is also widely assumed (though on scant evidence) to have influenced Kafka's The Castle.
Born in 1877 in a Bohemian village now part of the Czech Republic, Kubin had a childhood out of Strindberg. He didn't meet his imperious father, a surveyor for the Austro-Hungarian Empire, until he was two, and "felt only hate, hate, hate" for him thereafter, according to his lively autobiography. His beloved mother died when he was ten; the following year he was seduced by a pregnant acquaintance, casting a pall over his subsequent love life. At nineteen, he took a loaded pistol to his mother's grave and pointed it at his temple, "where, after consulting a drawing in an anatomy book, I had made a scratch with a needle so that I would not fail to hit the brain"; the rusty pistol misfired. He had a nervous breakdown during a brief stint in the army. "The notion that I was a Bourbon prince living on the island of Borneo superimposed itself on the actual circumstances of my life."
Briefly apprenticed to a landscape photographer as a teenager, another failure, Kubin enrolled in art school in Munich in 1899. He lived a bohemian life (which he bragged about to Kafka), steeped himself in Nietzsche, and began producing the creepy drawings for which he is best known. He married Hedwig Gründler, a half-Jewish heiress; the marriage was long-lasting—a surprise to their friends—despite Hedwig's addiction to morphine and frequent hospitalizations. In 1906, they moved from the city to a remote estate on the German border, occasionally collaborating on projects such as an illustrated edition of Nerval's hallucinatory Aurélia—an account of the author's descent into madness—translated by Hedwig. In Castaways, one of the illustrations for the book, elongated figures starve to death alongside the decomposing (and vigorously drawn) corpse of a horse, while buzzards hover nearby.
A well-received show of Kubin's drawings at the Neue Galerie in 2008, accompanied by an excellent catalog, was limited to Kubin's earlier and best-known phase, from 1897 to the publication of The Other Side in 1909. The Shepherd exhibition covers some of the same ground, but also documents Kubin's later career (he died in 1959), as a much sought-after book illustrator, an enthusiastic practitioner of Buddhism, a pioneering advocate of the art of the mentally ill, and briefly (and not very satisfyingly) a painter. On the strength of his illustrations for The Other Side, Kubin was asked to illustrate Poe, Hoffmann, and other Gothic classics, but he also supplied drawings to accompany new work by Thomas Mann and Hugo von Hofmannsthal during a period—sadly unlike our own—when serious fiction was presumed to be strengthened by challenging visual images. Over time, illustration may have diluted the intensity of Kubin's work, which can seem, especially late in his life, generic, as though he is recycling decadent imagery instead of drawing on his own inner demons.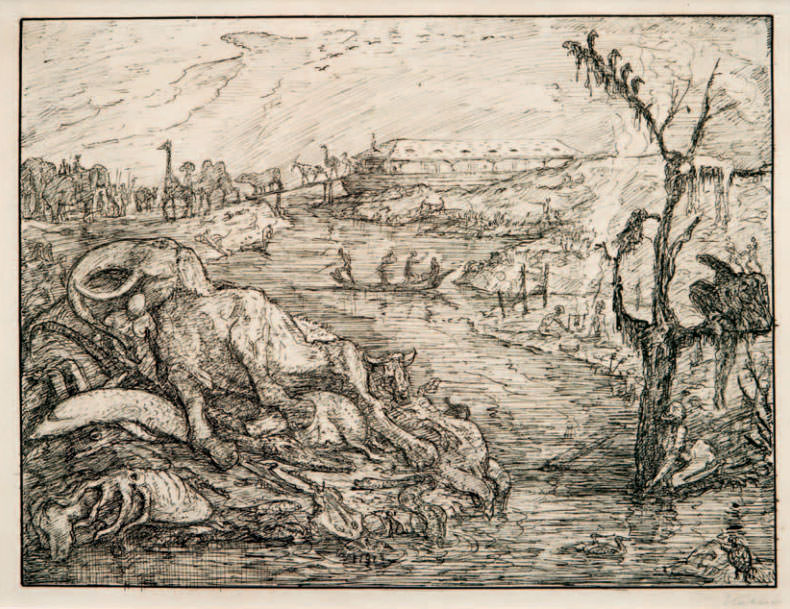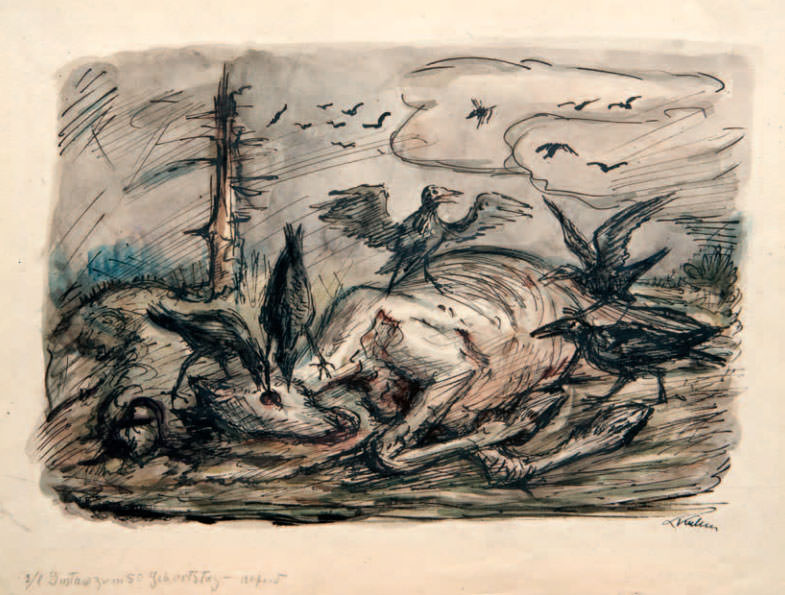 During the period between the wars, Kubin formed intense friendships with both Paul Klee and Vasily Kandinsky, exhibited with their Blauer Reiter group (his labyrinthine, if somewhat hackneyed, Oriental Burial Place of circa 1910 has some of Klee's grid-like patterning), and was lobbied hard to join them at the Bauhaus. A confirmed hermit with zero interest in teaching, Kubin did show his work once at the Bauhaus, in 1932, but seemed content with his steady and lucrative work in book illustration rather than keeping up with the avant-garde. It is pleasing to imagine how Kubin's occult and Gothic tendencies might have nudged the Bauhaus designers, with their habitual impersonal geometries, in a slightly different direction.
What becomes clear in the course of Kubin's long career is how literary a temperament he was, not only because of implicit narratives in much of his work, illustrative and otherwise. Some of his most arresting images in pen and ink seem to arise from some middle ground between writing and drawing, not calligraphy, exactly, but rather as though typeface had sprouted roots and tendrils and spread like invasive groundcover over the whole expanse.
Kubin habitually used stiff paper intended for land surveys (following in his father's footsteps after all), in small sheets rarely larger than 12 by 15 inches. Fanciful maps of various kinds show up in his work, for example in the closing pages of The Other Side. There is also a cartographic ambition in Snakes in the City from 1911 (the image is pretty much what you'd expect) as well as the marvelous Military Expedition (circa 1910-1915), where barely an inch of paper is left uncovered, and swarming figures cross a bridge and a river that seem to form a single swirl in the composition. The debarking animals in the expansive Noah's Ark: Landing (1911) set foot on land made solid by the accumulated corpses of their relatives, an image that can seem prophetic of our own lacerated planet. Kubin's work, according to Ernst Jünger, was a key that opened the secret spaces of history, "a chronicle whose sources should be seen as the creaking in the rafters, the cracks in the walls, and the spider webs."
---
Alfred Kubin: 1877-1959 is on view at Shepherd Gallery.