What is vulgar? These days a certain president-elect comes to mind. But there's more to it than the gilded rooms at Mar-a-Lago. The word's many meanings and many forms are at the heart of "The Vulgar: Fashion Redefined," an expansive exhibition at the Barbican Centre in London. The show takes shape around eleven categories of vulgarity conceived by writer and psychoanalyst Adam Phillips, like "Puritan," "Impossible Ambition," and "Showing Off." Each is explored through clothing, shoes, and texts spanning the eighteenth century through the present.
At first glance, several of these items are not obviously vulgar—a prim twentieth-century Christian Dior cocktail dress, for example—while others flaunt their vulgarity with bedazzled, slinky, excessive fervor. But to call something vulgar may say more about oneself than the thing in question, Phillips argues. One employs the word, he writes, to "reassure oneself of one's own good taste" and to reaffirm "the fact that there is such a thing as good taste, and that it protects us."
Protects us from what? Fashion is a particularly useful medium for parsing this question. Throughout history, people have used clothing to declare their tastes, sensibilities, and class, while excluding those perceived to lack the "good taste" and "breeding" necessary to dress the part. Fashion curator Judith Clark has selected clothing that she describes in the catalog as "absolutely culturally sanctioned": pieces that are, for the most part, one-of-a-kind and handcrafted, designed by elite fashion houses like Chanel, Dior, and Yves Saint Laurent. And yet, many of these pieces are bizarre and extreme, like an eighteenth-century mantua (or gown) with an overskirt that is two and a half meters wide, or a pink men's suit that is patterned with juvenile toy cars and animals. One wonders whether this is a mockery of good taste or an attempt to push it forward.
Though not explicitly included as one of the exhibition's organizing categories, pleasure is a central theme. We see this in Vivienne Westwood's playful "Eve" bodysuit, adorned only with a gleaming mirrored leaf affixed to the crotch, and her "Watteau" evening gown, displayed with a white leather glove poised to slip off the mannequin's arm at any moment. The play on Genesis and the subversion of opulent eighteenth-century dress both sit just on the edge of propriety—they are just an apple's bite or a glove's drop away from the overt, vulgar display of money or sex.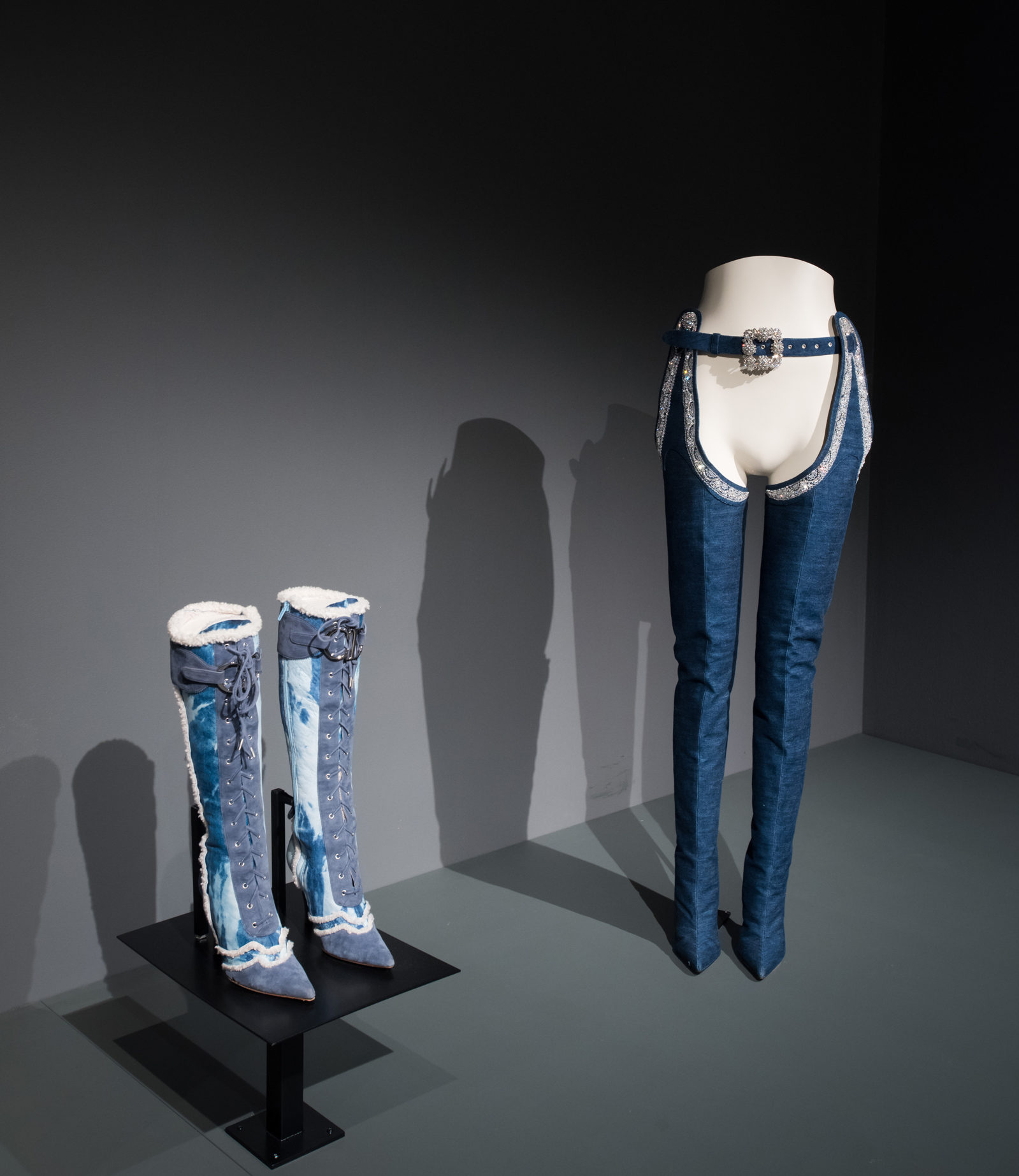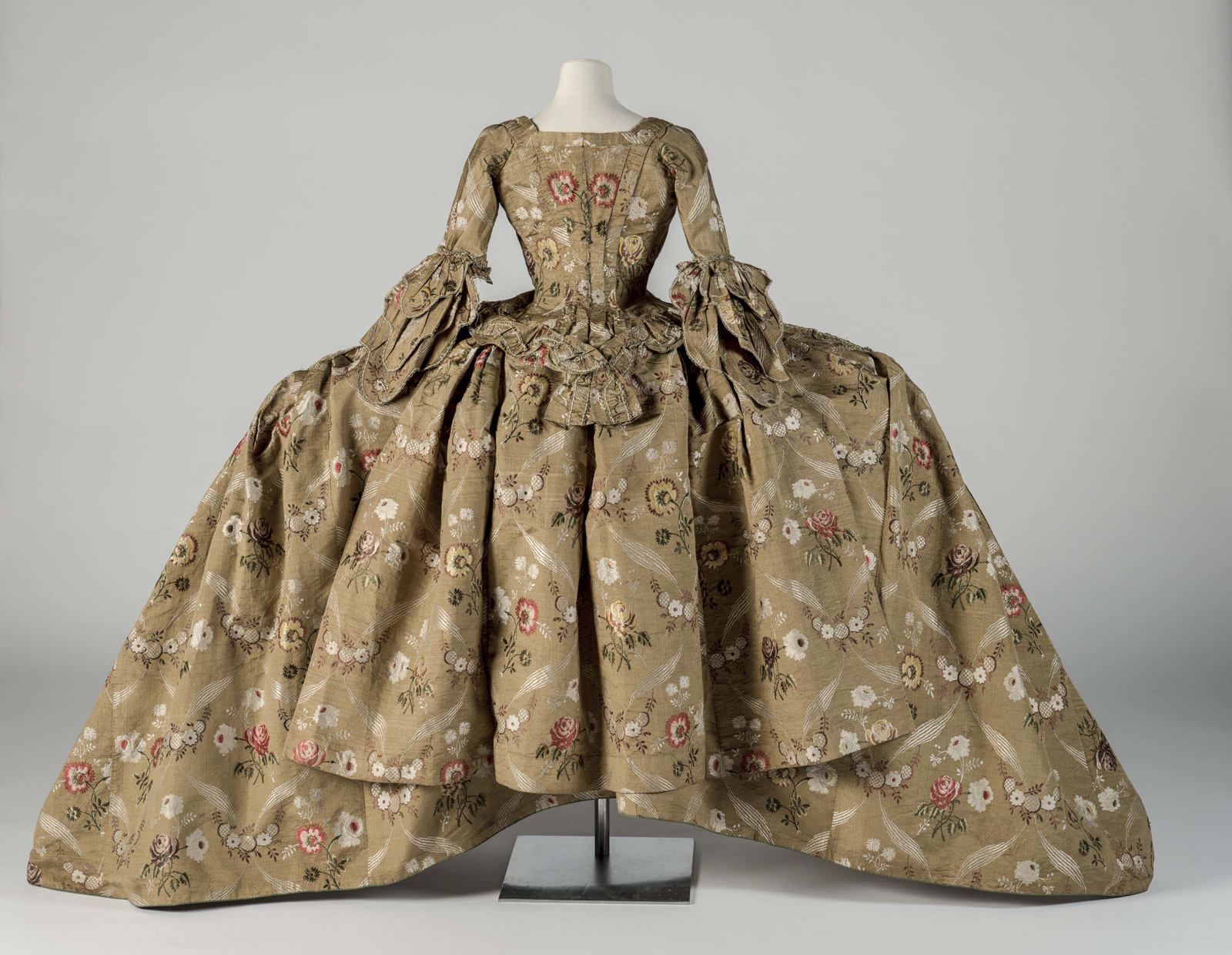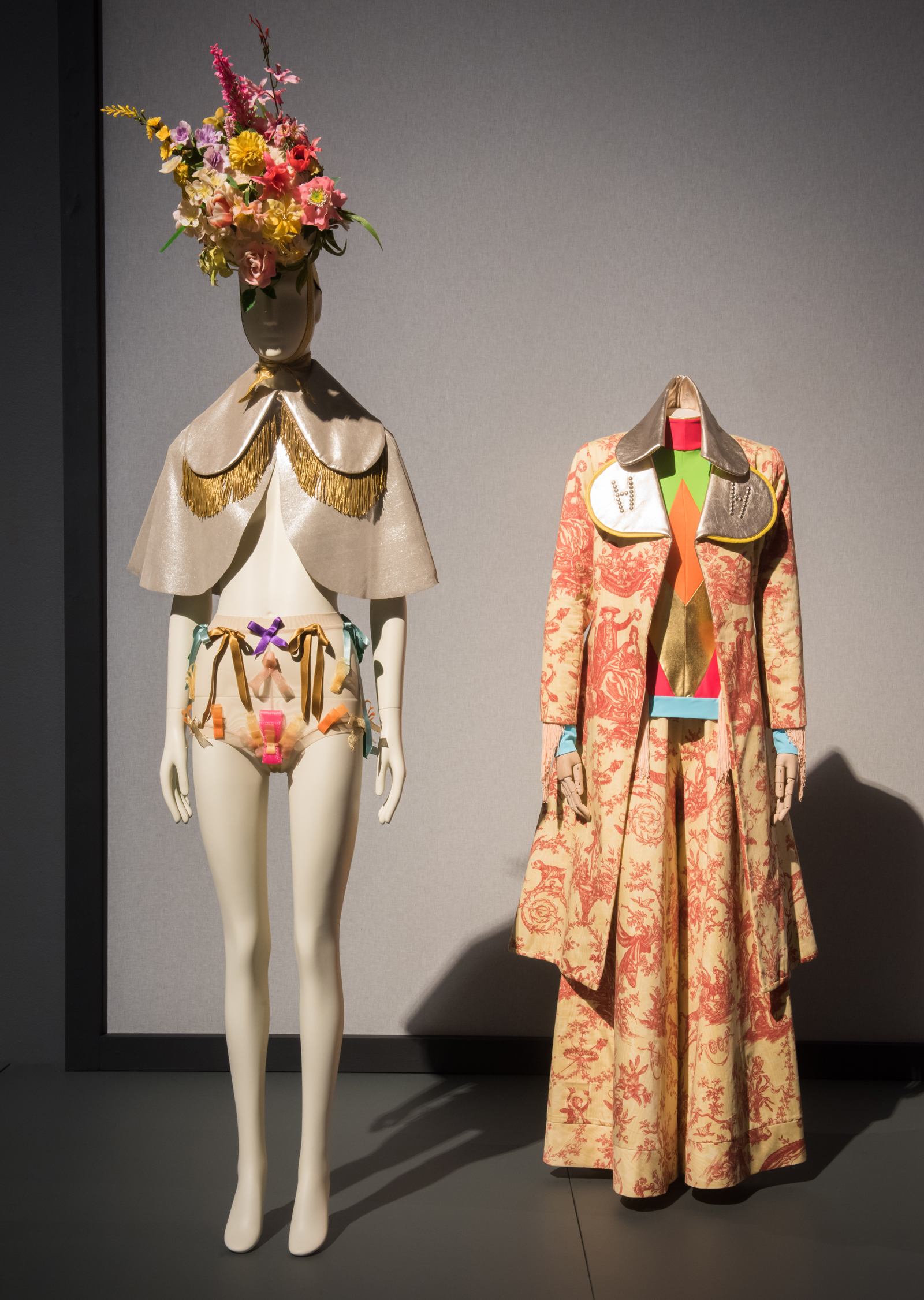 Then there are the aspirations that drive one to spend money in hopes of attaining higher social status. In a section titled "Impossible Ambition," we find the accoutrements of royalty—most impressive, a heavily embroidered Renaissance-style coat with a Dalmatian-print collar worn with an enormous gold cross, designed by John Galliano for Christian Dior in 1998-1999, and a flamboyant hat recalling Henry VIII by milliner Steven Jones. What could be more "impossibly ambitious" than a commoner dressing like royalty? The display parodies the urge to show off vast wealth and power, and also mocks the royal who, in a past era, might have worn such a getup with a straight face. Galliano's piece evokes what "The Vulgar" does best: it calls into question the high-class guardians of "good taste" and our desire to follow suit, all the while presenting an outrageous visual feast that we still want the chance to consume.
One could argue that spending large sums of money on high fashion is itself vulgar. The Barbican show addresses this with items of clothing that explicitly lampoon the exorbitant, and out-of-reach to most, cost of haute couture. A flashy top made entirely of coins by avant-garde designer Gareth Pugh pokes fun at the idea of wearing one's money, as does Russell Sage's "Pound Sterling Bank Notes" dress, made from £6,000 worth of banknotes. One might finish the look with a pair of custom denim boots decorated with silver pound signs displayed nearby.
Fashion exhibitions themselves were once considered to be vulgar—and perhaps still are by some. Clark quotes the dress historian Lou Taylor, who wrote that, while museums have always collected the odd piece of clothing or textile, they did not do so systematically until the 1950s because "in the eyes of the male museum staff, fashionable dress still only evoked notions of vulgar commerciality and valueless, ephemeral, feminine style." Recent fashion exhibitions, like the Metropolitan Museum of Art's 2011 Alexander McQueen retrospective, "Savage Beauty," have securely elevated couture to the status of art. "The Vulgar" takes this a step further by including pieces that are not only exquisitely made, but that brim with ideas that challenge our sense of status and self. Through humor and style, the exhibition hints at what might be gained if we loosen our grip on good taste. Strolling through the rooms of the Barbican, one can't help but feel a kind of optimism that vulgarity, when carefully applied, can rattle the existing order.
---
"The Vulgar: Fashion Redefined" is on view at the Barbican Centre through February 5.