Henri Cartier-Bresson is perhaps the most well-known photographer in India, or rather—an important distinction—the photographer whose work is most well-known. He first visited India in the fall of 1947. One of only two Western photographers granted access to Gandhi, Cartier-Bresson shot a series of portraits of the ailing leader the week before he was killed by Nathuram Godse, a Hindu chauvinist, in January 1948. Cartier-Bresson then covered Gandhi's funeral and the national mourning that followed.
First published in Life magazine, these photos brought Cartier-Bresson worldwide recognition. They were also widely reproduced in India, and are today so familiar there that his authorship is usually forgotten. The same is true of many quieter, more tableaux-like photos he took on subsequent visits in 1950, 1966, and 1980. In "Henri Cartier-Bresson: India in Full Frame," the Rubin Museum brings together selections from each of these trips.
Cartier-Bresson came to India at a turning point in his career. Before the war, he had been an art photographer influenced by Giorgio de Chirico's moody geometry and the theories of his friend André Breton. But he now had—as he wrote in a 1947 manifesto for Magnum, the influential photojournalist collective that he helped found—a "curiosity about what is going on in the world, a respect for what is going on and a desire to transcribe it visually." The curiosity would drive a long career in photojournalism, for which his India trip was an apprenticeship.
On his first visit, Cartier-Bresson shot fluent and respectful portraits of Indian politicians (Sardar Patel, Nehru, Gandhi). His photograph of Nehru and the Mountbattens—Nehru sharing a joke with Edwina, as her husband Louis looks away—is a history textbook favorite. (It's also insightful; Nehru and Edwina are rumored to have had an affair). The quiet, almost hushed late portraits of Gandhi owe their success to tact. Unlike Life's Margaret Bourke-White, who was also present, Cartier-Bresson shot without flash, which gives his prints a softer, more human finish. "We are bound to arrive as intruders," he later reflected in his essay "The Picture-Story." "It is essential, therefore, to approach the subject on tiptoe…. It's no good jostling or elbowing."
Cartier-Bresson's coverage of public events was withdrawn, almost retreating. This was perhaps a moral reflex: 1947 and 1948 were the worst years of post-partition communal violence. A shot of Muslim refugees taking a train to Lahore—did they make it past the border?—is haunting precisely for how little it reveals.
His restraint is more puzzling when he turns to less extreme subject matter, such as fisherman at work or women drying their laundry, in part because it's entirely uncharacteristic of him. Cartier-Bresson's European street photography was openly virtuosic; he shot with great agility and precise timing (passing reflections in a puddle, light flashing on an eyeglass). In a way, the challenge of composition was his secret subject. "Each of his famous pictures refers internally to the act of shooting it," Arthur Danto wrote in The Nation in 1987, "and each, for all its laconic title, is eloquent with the implied narrative of the successful kill."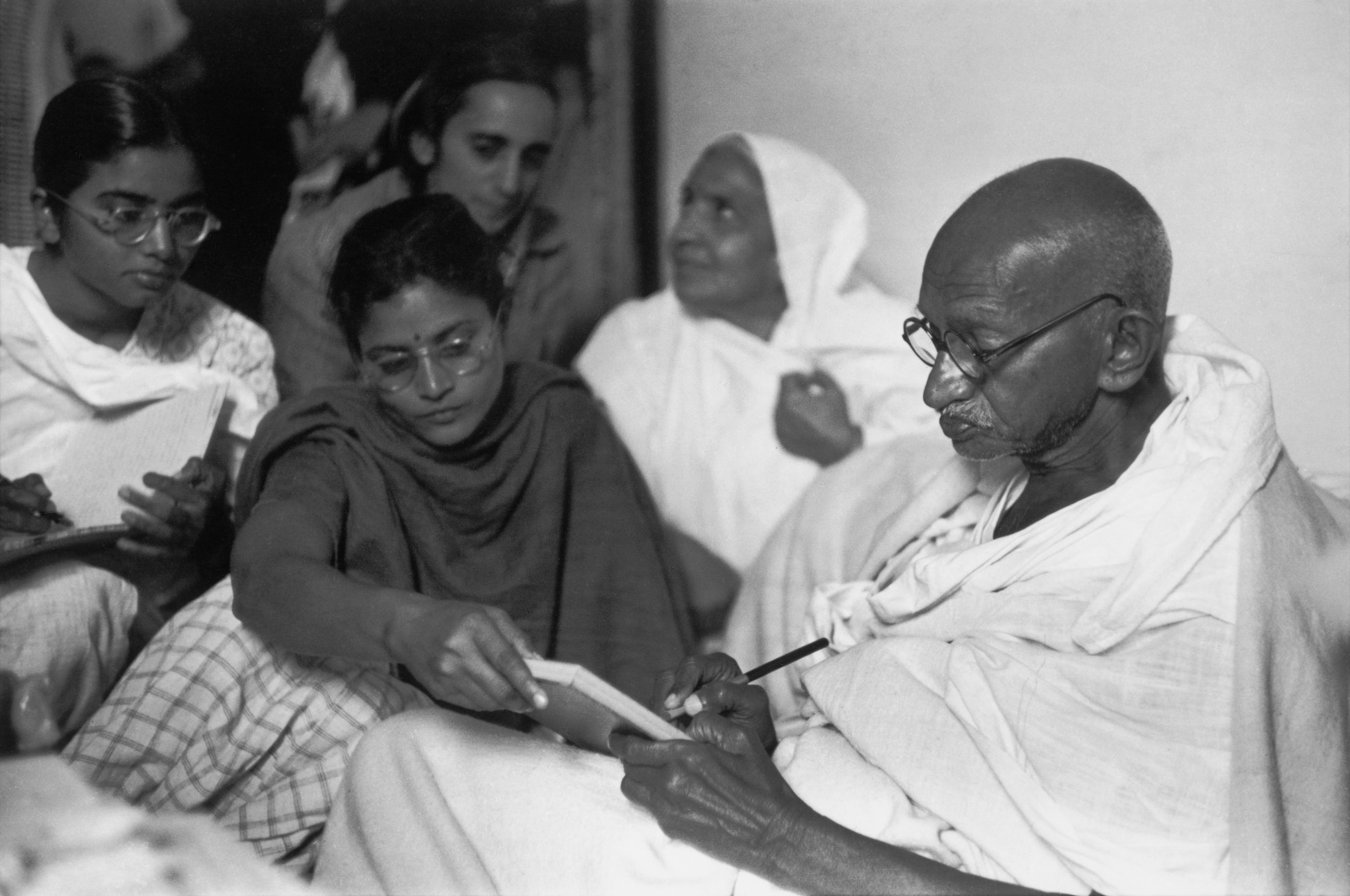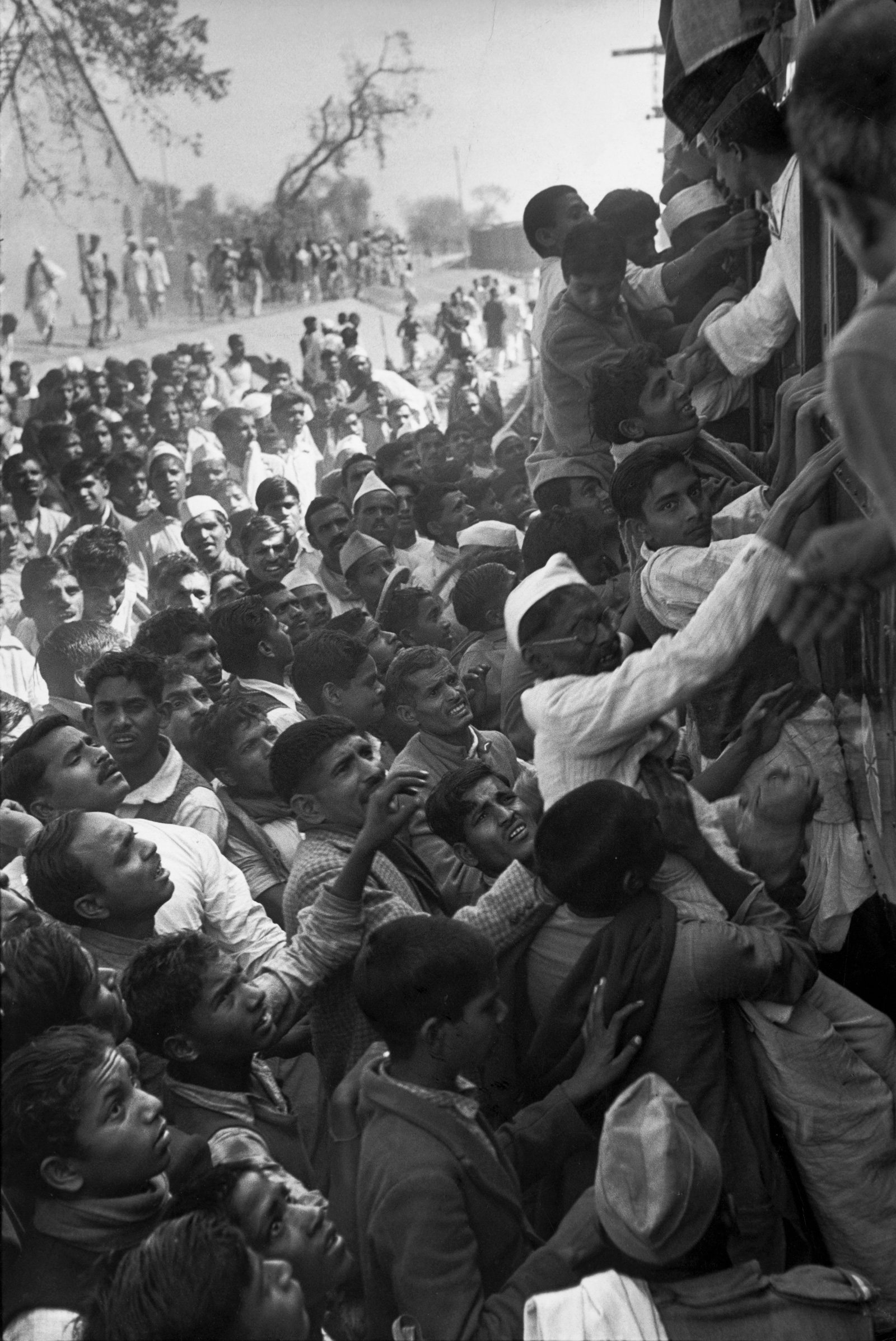 By contrast, Cartier-Bresson's Indian photos are quiet, self-effacing, and resolutely static. Even when he shoots in crowds, as he does at a cattle sale, there is little sense of movement or noise. If in Europe he chased the "decisive moment," there's something conspicuously timeless about his panoramas of Indian peasants and cowherds. He also uses a different perspective. In Europe, he's almost indecently close to his subjects; in India, he shoots from afar, with a sort of wide-angle pastoralism or classicism.
It's hard not to detect a sense of social estrangement here. In fact, Cartier-Bresson made a style out of his outsider status. Had he suppressed this self-knowledge, his work might have turned sentimental or prying. (A photo of Muslim women framed by a cloud is a rare lapse in this regard.)
Cartier-Bresson's later India photos feel driven by a sociological impulse. They are simply but carefully framed to convey facts. Much like V.S. Naipaul, he was drawn to the poignant contrasts of post-colonial development. For example, a famous 1966 photo shows India's first missile being transported on a bicycle. Another more bitter shot shows barefoot workers digging at the site of India's first nuclear power plant.
Perfume seller, Ahmedabad (1966) is the photograph closest in spirit to Cartier-Bresson's European work. A nested portrait of a plump street-vendor framed by cheap paintings and wares, it's a moving, accomplished shot. But even here you sense a wry self-awareness. The frame of paintings is dazzling, but it keeps the photographer out.
---
"Henri Cartier-Bresson: India in Full Frame" is at the Rubin Museum through January 29, 2018.