Modernism came late to Britain, and perhaps that intensified its force. When Virginia Woolf wrote, "On or about December 1910 human character changed," she was suggesting, only half-jokingly, that after Britons went to their country's first exhibit of Post-Impressionist art that winter, they never saw anything in the same way again. Strolling amid the controversial work of Van Gogh, Gauguin, and Cézanne—all dead by then—Woolf may have passed a young artist, David Bomberg (1890–1957), who would also experience the exhibition as a turning point, emboldening him to push his art toward abstraction. Bomberg, a boy from the Jewish "ghetto" of London's East End, soon became one of Britain's most celebrated and controversial modernist artists. In the words of a friend, Bomberg was "very blasty… He wanted to dynamite the whole of English painting."
Yet Bomberg's work, first deemed too radical by many established critics of the time, would later gain the reputation of being too conservative. Bomberg's entire career can seem like a litany of failure. Labeled an "English Cubist" or "Jewish Futurist," he exhibited with Britain's home-grown modernists, the Vorticists, but never joined a movement. His shifts in style baffled critics, he was considered an outsider in his own country, and his attempts to serve as an official war artist were largely rejected. He died in obscurity. Sixty years after Bomberg's death, however, he is gaining recognition as one of Britain's most important twentieth-century artists. A current exhibition at the Ben Uri Gallery & Museum in London, the first major survey of Bomberg's oeuvre since a Tate retrospective in 1988, both offers an opportunity to better understand what was radical about his early work and demonstrates how his decisive modernism lived on in later work.
The Ben Uri, which focuses on the work of Jewish, immigrant, and refugee artists and which has been collecting Bomberg's work since 1920, was founded in 1915 in London's East End, near Bomberg's childhood home. Bomberg's family could not afford to support his artistic ambitions, but John Singer Sargent discovered him sketching in the Victoria & Albert Museum and helped him get into the Slade, then Britain's top art school. After a few years, Bomberg was thrown out for being a "disturbing influence," both in his uncompromising artistic radicalism and utter lack of humility. The first section of "Bomberg" shows how the artist took both traditional Jewish scenes—the Yiddish theater, religious processions—and contemporary East End pastimes, like practicing jiu-jitsu and going to the horse races, and rendered them in daringly modernist fashion, "stripped," as he put it, "of all irrelevant matter."
World War I changed him. Bomberg joined up but then shot himself in the foot in order to avoid service, and the painting he contributed as an official war artist was deemed a "futurist abortion." He spent a year as a chicken farmer in the British countryside, looking for a new style. The exhibition conveys his stylistic shifts through juxtaposition. Bomberg's 1911–1912 Woman Looking Through a Window of his sister Raie in their family's tenement apartment, his studio visible on the right, hangs next to his 1919 reworking of the same subject, a painting entitled At the Window, in which Raie—who'd recently died—is dressed in black and confined by a cropped composition.
At the Window is animated by strong diagonals, like much of Bomberg's early work, including Racehorses (1913). His immediate post-war work, which hangs opposite his pre-war work in the first of the exhibition's four rooms, is heavy and static. His 1920 painting Ghetto Theatre drips disillusionment, with its harsh colors and listless, battered figures.
The entire art world was thrown into crisis by the war: the Western Front's mechanized slaughter made the machine-age aesthetic of the pre-war avant-garde look misguided. The war ushered in both the rebelliousness of Dada and Surrealism and a "Return to Order" movement that privileged reassuring, traditional approaches. Bomberg, tired of abstraction and of Britain, accepted funding by Zionist organizations to visit Palestine, where he lived from 1923 to 1927, painting surprisingly naturalistic landscapes that delighted his former detractors and disappointed his former fans. Despite their representational fidelity and looser brushwork, his views of Jerusalem's skyline retain hints of cubism. The Ben Uri exhibition's second room displays these paintings without mentioning his later ambivalence: he dismissed some of this Palestine work as "picture postcards for government officials." Yet this experience gave him a love of painting outdoors he pursued for the rest of his life.
Bomberg moved next to Spain, producing landscapes that recaptured some of the dynamism of his earlier work, although their blend of the figurative and abstract can be disjunctive. These paintings, featured in the exhibition's third room, mark the beginning of his search for what he called "the spirit in the mass," an attempt to convey form "through feeling and touch and less by sight." The eye, he concluded, was a stupid organ. His new direction proved no more popular with audiences or critics. In 1935, growing civil unrest propelled him to return to England, where gatekeepers of the art world such as Kenneth Clark rejected his work, both past and present, because it wasn't representative of "national traditions." Clark wrote to a friend: "If only it were possible to discourage the Jews from painting." This identification of both Jews and abstract art as "foreign" meant that Bomberg's reputation suffered doubly: not only because his art was out of sync with prevailing aesthetic values, but also because of anti-Semitic attitudes about what constituted "British" art.
Bomberg tried to contribute art to the cause in World War Two, but as in World War One, his attempts were mostly rebuffed. After the war, Bomberg became an influential teacher: his students included Frank Auerbach and Leon Kossoff, two British-Jewish artists who would achieve greater acceptance than he'd ever known. His paintings became increasingly free and abstract. After painting Flowers-Rhythm (1948), Bomberg, arguing with an acquaintance who disdained still lifes, exclaimed, "Even flowers can be painted so as to remind us of all the terror in the human breast!"
In the poignant final room, Tajo and Rocks (Last Landscape), painted in 1956 in Spain, brings this abstraction to landscape, while his Last Self-Portrait (1956) applies it to the human figure. The solid forms that had always marked his work began to dissolve. Bomberg painted himself with his body slumped, his face obscured by a lobe-like scarf, as if he'd been split open. Just before he died in poverty, with no London career survey exhibit and a reputation as a minor Vorticist, Bomberg wrote, "I am perhaps the most unpopular artist in England." Lucian Freud and Francis Bacon were on the rise, and the dissecting gaze that marks their work made Bomberg's unitary, Cézanne-esque work look old-fashioned.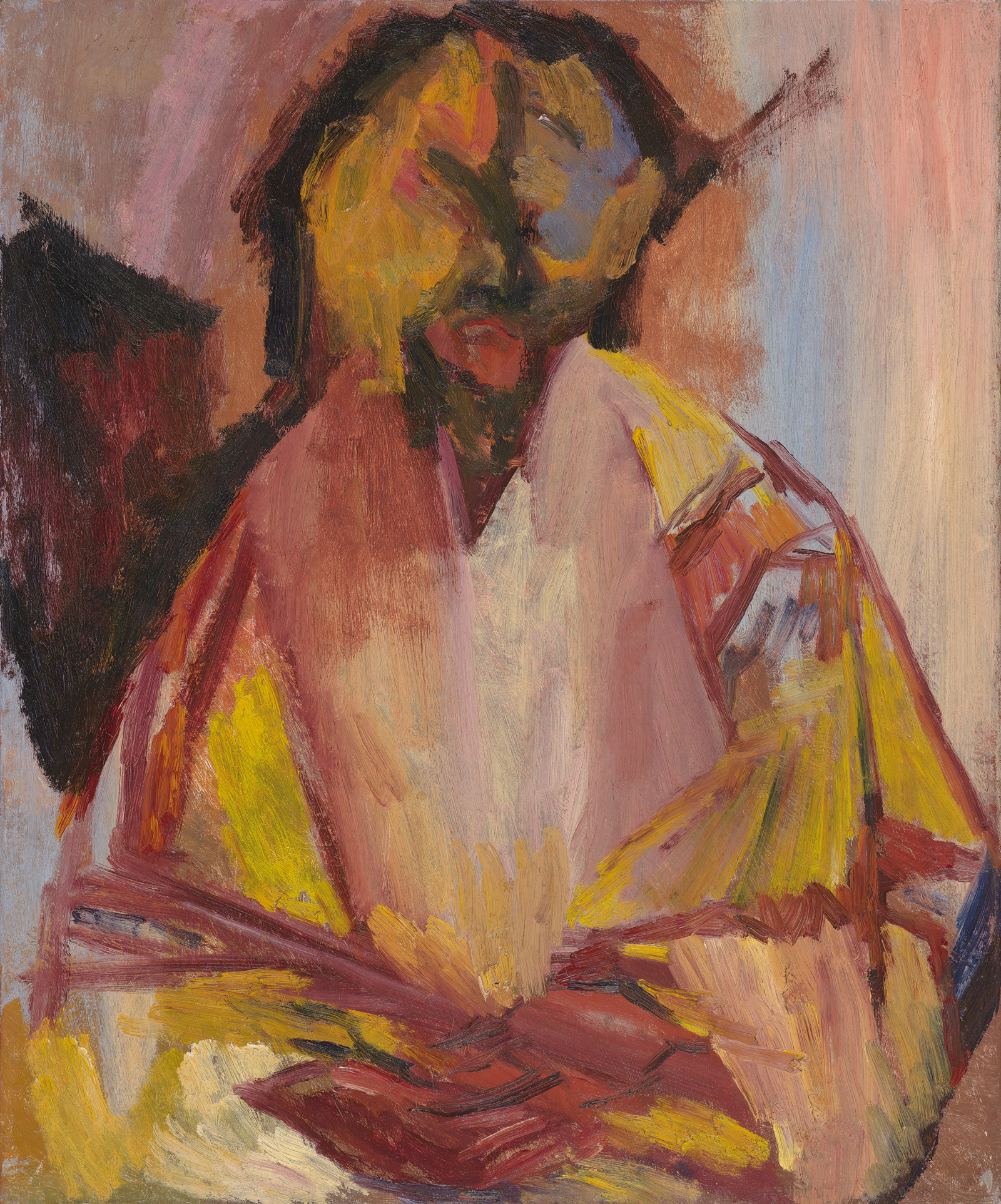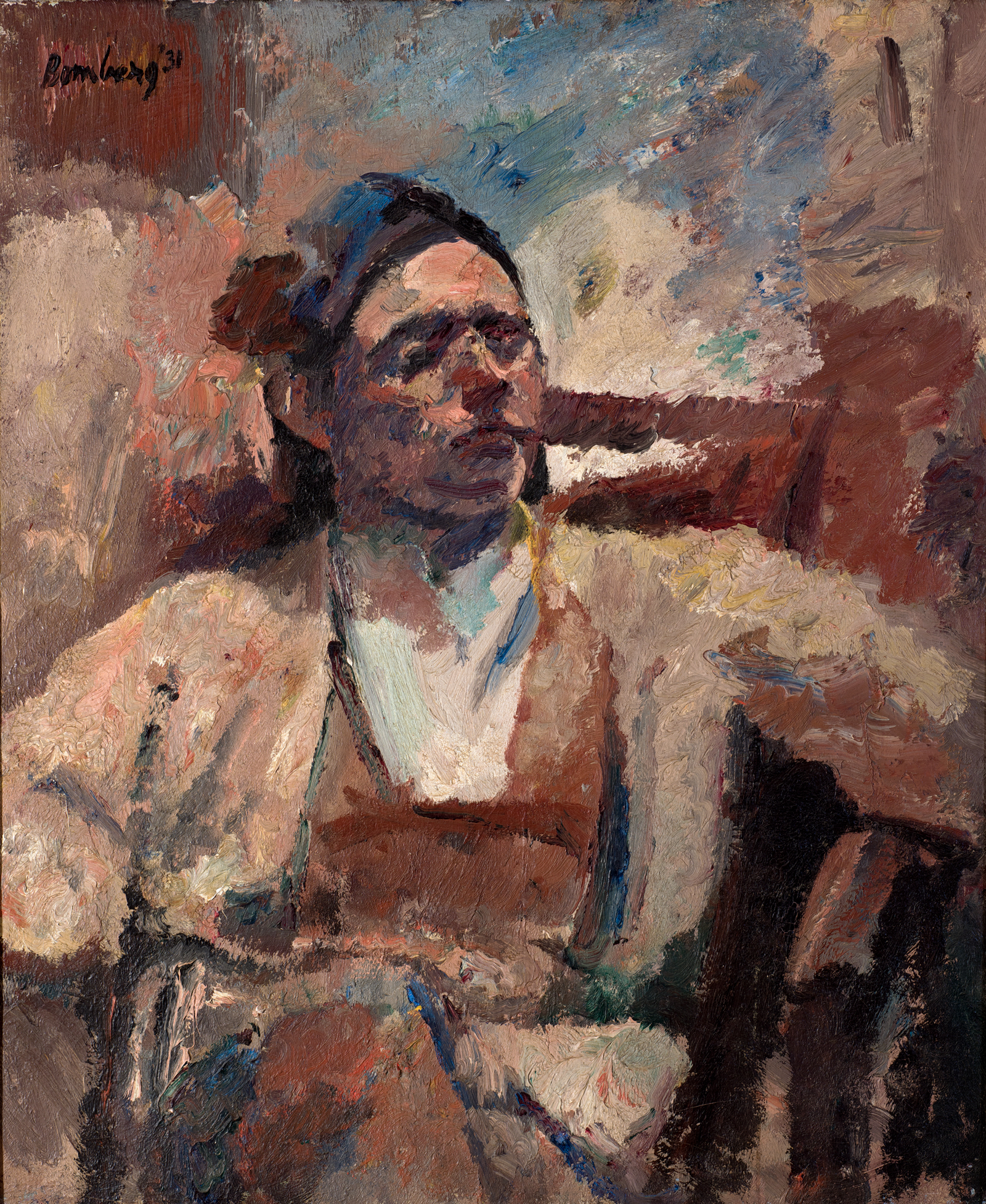 In the 1970s, renewed interest in abstract pre-World War One British art led to a renewal of interest in Bomberg's early pieces, while the "return to painting" shift of the 1980s drew attention to his later work. As different eras of his career have appealed to different artistic generations, his work has usually been exhibited by period: "Bomberg in the Holy Land," "Bomberg: The Later Years." A few landscapes, cityscapes, and self-portraits were recently on view at a major exhibition at the Tate Britain, "All Too Human: Bacon, Freud and a Century of Painting Life," which ranged across genres and periods and illuminated Bomberg's influence on twentieth-century British art. A Bombergian blend of figuration and abstraction is evident not only in multiple rooms featuring the work of his students, including Dennis Creffield and Dorothy Mead as well as Auerbach and Kossoff, but also in the work of younger painters such as Cecily Brown, especially her 2015 painting Boy with Cat.
Yet it is only in a survey like the Ben Uri's, when the full arc of his career is on display, from his days as a spark of British modernism to his precise evocations of Palestine to his later, muscular, more free-form works, that his originality and dynamism become evident.
---
"Bomberg" is at the Ben Uri Gallery through September 16.