---
I turned right from my home, past the school, through the narrow alleyway to another opening where there were no high rises. Only small huts. Two cows tied to a tree. A beaten-up van left like an abandoned shipwreck. Boys and girls climbing in and out of its carcass.
Circling the cows, I would arrive at a row of small houses, one room each. The third one from the entrance to the compound was Sharmila's. She lived there with two grown sons, two teenaged daughters, and a grandchild from a third daughter who had been murdered—set on fire by her in-laws many years back.
Sharmila said the granddaughter is all she has to live for. She has a husband who doesn't live with them. He lives elsewhere in the neighborhood with another woman. I have seen him twice.
I met Sharmila five years ago when I moved back to Calcutta, to stay with my parents in the house I had grown up in. Seventeen years earlier, when I first moved to America, I had been aware of the Basti, or slum, as it's known in English, just behind my parents' home. No more than a five-minute walk. But I wasn't allowed to go anywhere near. Not even to pass through in a car.
Now, I would venture into this no-mans-land that my family all knew of but never discussed. I started taking pictures along these walks—of broken windows and dilapidated houses and barber shops. Soon, the local boys would run up to me, parents holding their little ones in their arms, a shopkeeper hugging his one precious belonging—a broken blender—"Didi, Didi," Sister, Sister, "One photo, please."
Sharmila had seen the mob around me one day. "Will you take a picture of my house?" She asked. "You see, I have lived there for twenty-five years and now they [the developers] are making me move." She pointed across from where we stood to the empty plot, scattered with rubble and the lopsided beginnings of wooden scaffolding—the early foundations of a multi-storied building.
She herself was born in a shack behind the plot—hardly a shack even, a tent made of tarpaulin held up with bamboo poles—the bedrock of her life.
---
---
This practice of taking and giving photographs began when, on one of my walks, I had come across a group of women doing their laundry around an open washing area. A well situated in tiled cistern. It was a Saturday. I sat down near the cistern as the women washed, and asked if I could photograph them.
"Kis liye?" What for, they asked.
"Shouk," I answered. Meaning whim or fancy. I didn't know the Hindi word for hobby. "Just as you paint or sing, so does one take photographs."
One lady turned back to the others. "Oh, shouk ke liye," she explained. They nodded, apparently satisfied that I had not come from the municipal corporation.
I spent all morning photographing them. Later, when I returned home, I was so pleased with the shoot, which looked like something I'd only seen in the old Life magazines, that I went back the very next day to give them physical prints.
A flock of aunties, like migrating birds, came out from behind the curtains that served as their doors, gathering around the stack of photographs, passing them from hand to hand. They asked me to come back later that week—when their relatives would be visiting and they'd be cooking a feast.
I began to visit them almost every day after that. I promised I would make a book about them.
I called them my Saturday Morning Laundry Ladies. They called me Photowali Didi.
---
---
After few moments with Sharmila, I'd head to the Chaiwalla's, taking photographs along the way.
Someone shouts from behind, "Dekho!" Just watch. "She's going to send these pictures back to America and make lots of money out of us." Another voice reminds him, "Nahi, Nahi, shouk."
Once at the Chaiwalla's, I don't have to ask to be served. He would push his other customers aside and hand me a small clay pot—his boney hands shaking.
Upon my arrival, the Mad Man, as the locals call him, who lived in a shack next door would begin his monologue in English. "All college, no knowledge," he'd say.
This was alluding to the more affluent folks, like me, who lived beyond their horizon. He'd said that these children who'd go to study in America would squander their parents' money and come home with no degree in hand but a fancy little dog.
The Mad Man's eyes are red and hard, as though he's seen all the evils in this world. He doesn't work. This way, he says, he has no chinta, no worries.
One day, I returned after a long absence to find that his shack had acquired sturdy walls made of cement, and a real door that had replaced the tattered curtain. Inside, a room of no more than fifty square feet, he lived with his son, daughter-in-law, and grandson. When he asked me to come in, the others had to step outside to make room. On the wall, next to the bed, was a mirror and in it, I could see his hard eyes looking back at me.
Sharmila told me the Mad Man's home improvements had come from money that the local ruling party had given him for helping to move squatters like her—to make room for the new construction.
---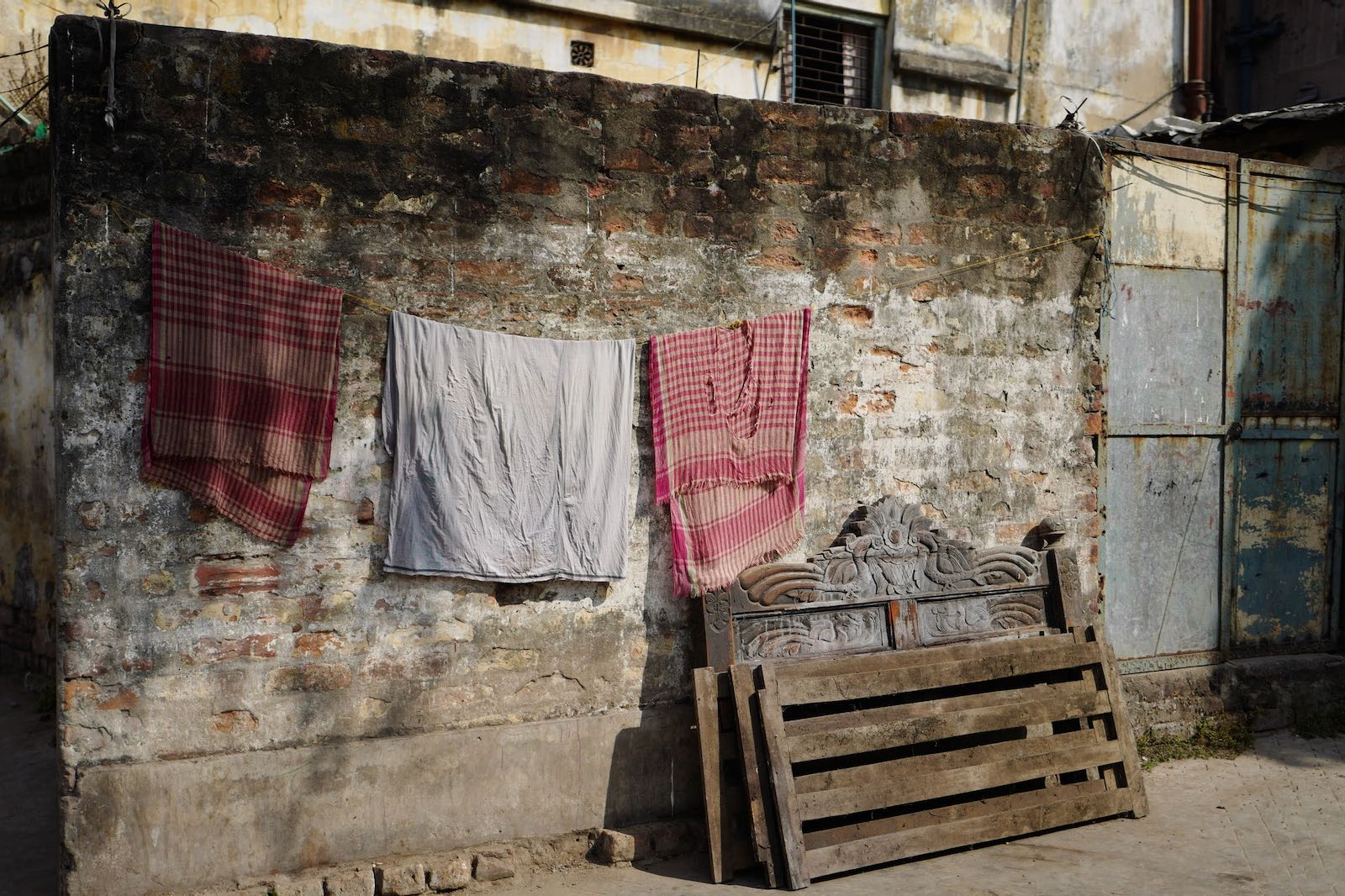 ---
The next time I saw the Chaiwalla, the first thing I said was, "Dada," meaning elder brother, "Did you get my sweets?" The last time I'd been to the neighborhood, a week before—I was on my way to Delhi the next day to spend Diwali with my sister—I wanted to give all my Basti Buddies sweets for the occasion. But I didn't have enough time to make all my rounds. Sharmila offered to deliver the box meant for the Chaiwalla. She worked in the market near his stall every Thursday. But the Chaiwalla said that he hadn't. I sensed his disappointment, the misery in his eyes, but I couldn't be sure—his expression never changed.
I marched straight to Sharmila's home.
"The children ate it," she said, with a shrug—almost as if it was insolent of me to have asked. She had no guilt, no remorse. Not even when she'd received a summons for hitting another woman. She expressed only anger—at the neighbors, the Mad Man, her jobless sons.
Yet her mournful eyes spoke to me of a person who knew that nothing astonishing would ever happen in her life. Still, she would keep trying, holding onto the dignity, secure in her expected failures. All she had to get by with in life was spite and sleep.
---
---
They sleep a lot in the Basti. They sleep till late in the morning, and then again in the afternoon, till the evening Aajan, the call to prayer. The Girls, the daughters of the Saturday Morning Laundry Ladies, the ones I had met the very first time, sleep after school. The men sleep with their mistresses. The dogs sleep under cars, in the shade of trees.
The Girls are curled up in question marks on various parts of their single, large bed. On hearing my voice, they rise and run out of their curtained rooms, rubbing their eyes.
"Photowali Didi a gayi, Photowali Didi a gayi." Photowali Didi is here. They comb their hair, apply lipstick, and get ready for a new day's shoot.
They don't know anything about me. Not my real name, not that I used to live in New York; nor even that I live in one of the largest houses in the neighborhood. They only know I have a sister who lives in Delhi. Once in a while, the Girls will message me on WhatsApp. They ask me what my doggy is doing. Can I bring my doggy over? But they never ask about my work, my travels, my absences. This tepid curiosity will always remain that distance between us.
And still, every day, around four o'clock, when the Aajan begins, I make my daily rounds. The residents of the Basti have become my neighbors. I wander over, much in the same manner I'd go into Jessie's dry-cleaning shop on the Upper East Side, have a cup of tea, exchange small talk.
Someone once told me, perhaps home is not a place but a time.
---