I began reading pieces for our May 25 issue while in London visiting family and friends. This included a trip to Charleston, the country home in East Sussex where the Bloomsbury group sometimes convened. I brought a stack of galleys in my bag for the ninety-minute train ride from Victoria Station to Lewes, but they remained there while my traveling companions—among them Review contributor Adam Thirlwell, who last wrote about BoJack Horseman, and his seven-year-old daughter—and I drew silly faces and discussed the liberal, queer relationships of Bloomsbury and the nature of Virginia Woolf's antisemitism.
The Charleston self-guided tour took us through the gardens and richly decorated interiors, an illustrator's dream: no surface is unpainted or unpapered, walls are peppered and stippled and looped with yarn. Bloomsbury design, with its signature mix of words and images, was an early influence on my own work. My attention was drawn, however, to the busts and pottery in corners and mantelpieces, little clay sentinels enduring the visitors. When I finally got around to reading the galleys, I was in a fauve, flat, graphic, modernist frame of mind. It might have inflected my commissioning.
The cover is by Rachel Levit Ruiz, a Mexico City–born artist I came across on Instagram. (Many of my favorite illustrators were already following her.) The cover image first appeared in Shifted (2016), a thirty-two-page collection of her figurative black-and-white drawings about gender and relationships. Ruiz's stark but voluptuous line and feminist concept recalled some of the themes in the issue: language, ventriloquism, solitude, secrets.
Inside, for Daisy Hildyard's review of Sara Baume's third novel, Seven Steeples, I asked the British illustrator Maya Chessman, who had e-mailed me out of the blue in April. While there weren't a lot of portraits in her portfolio—her work focuses on the natural world—her figures are both folkloric and realistic. I love her rustic, besweatered Baume.
For NYR editor Willa Glickman's review of five books about recent unionization drives and low-wage work, I was happy to be introduced to the work of the textile artist Tabitha Arnold by our online editors, Lucy Jakub and Max Nelson. Arnold needle-embroiders incredible tapestries about labor, industry, and worker organizing.
I asked one of our frequent portraitists, Grant Shaffer, for a likeness of Susanna Moore to illustrate Brenda Wineapple's review of Moore's latest novel, The Lost Wife. As always, he delivered a sharp, pleasingly unusual painting. Another regular contributor, Anna Higgie, took on Zachary Lazar for Andrew Martin's review of Lazar's latest novel, The Apartment on Calle Uruguay.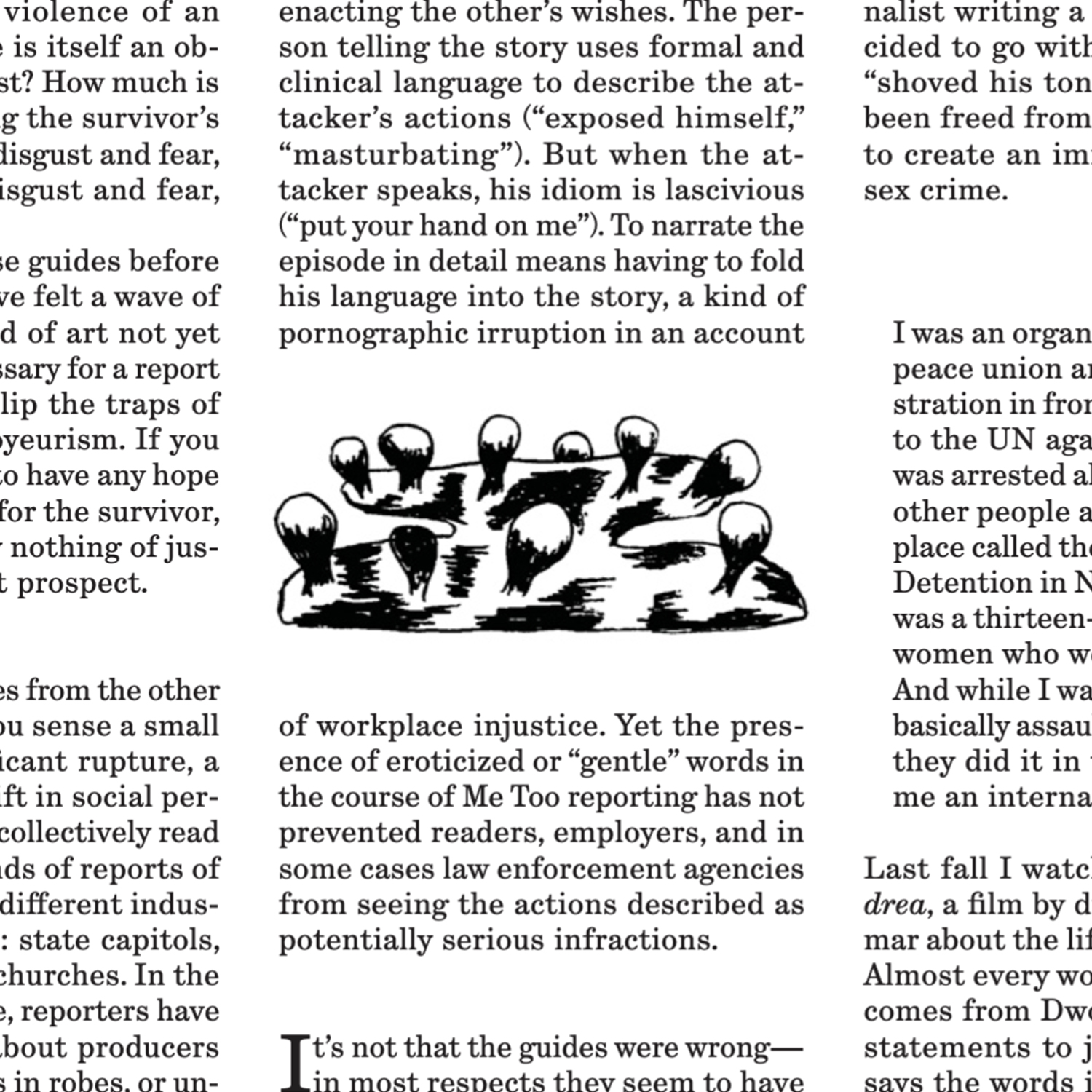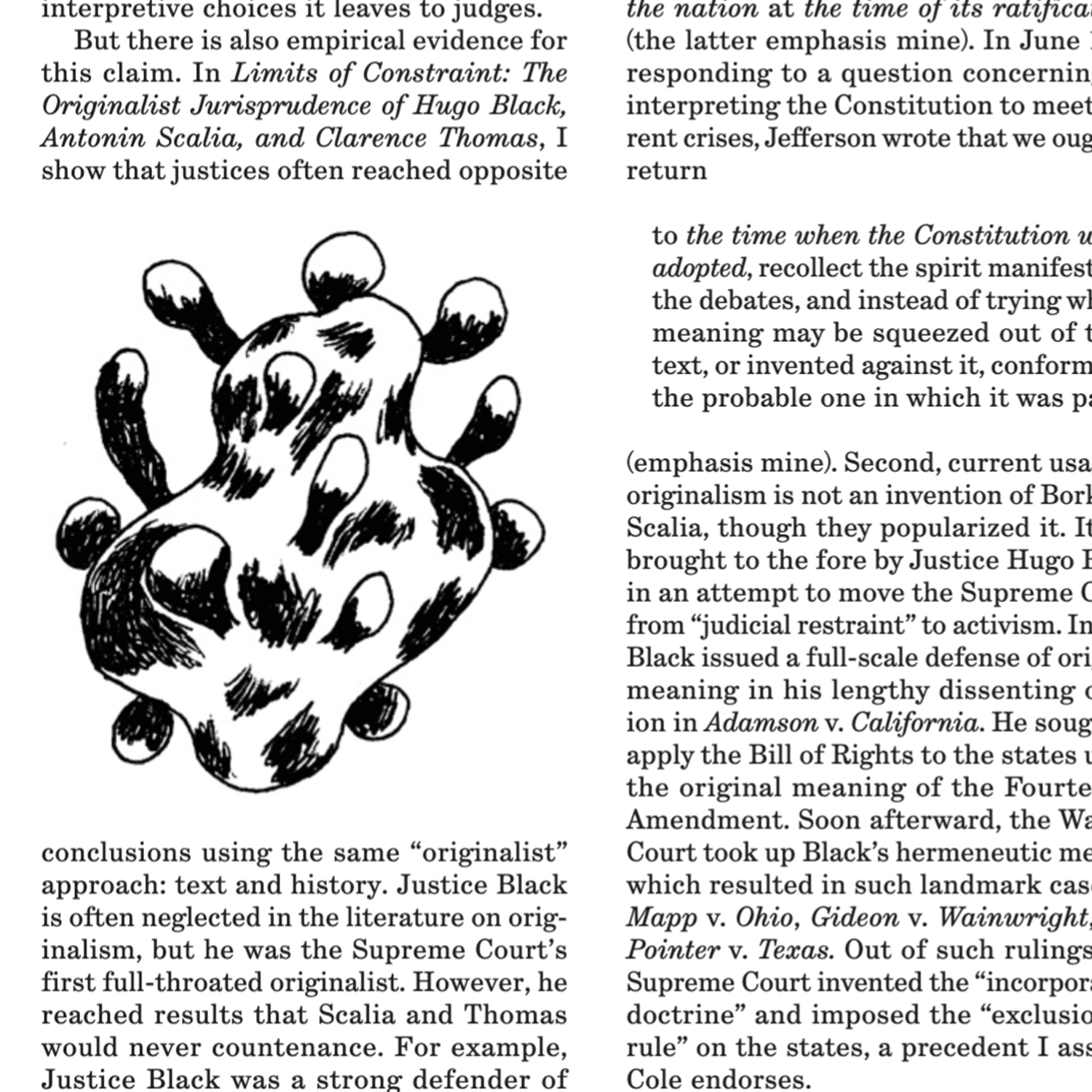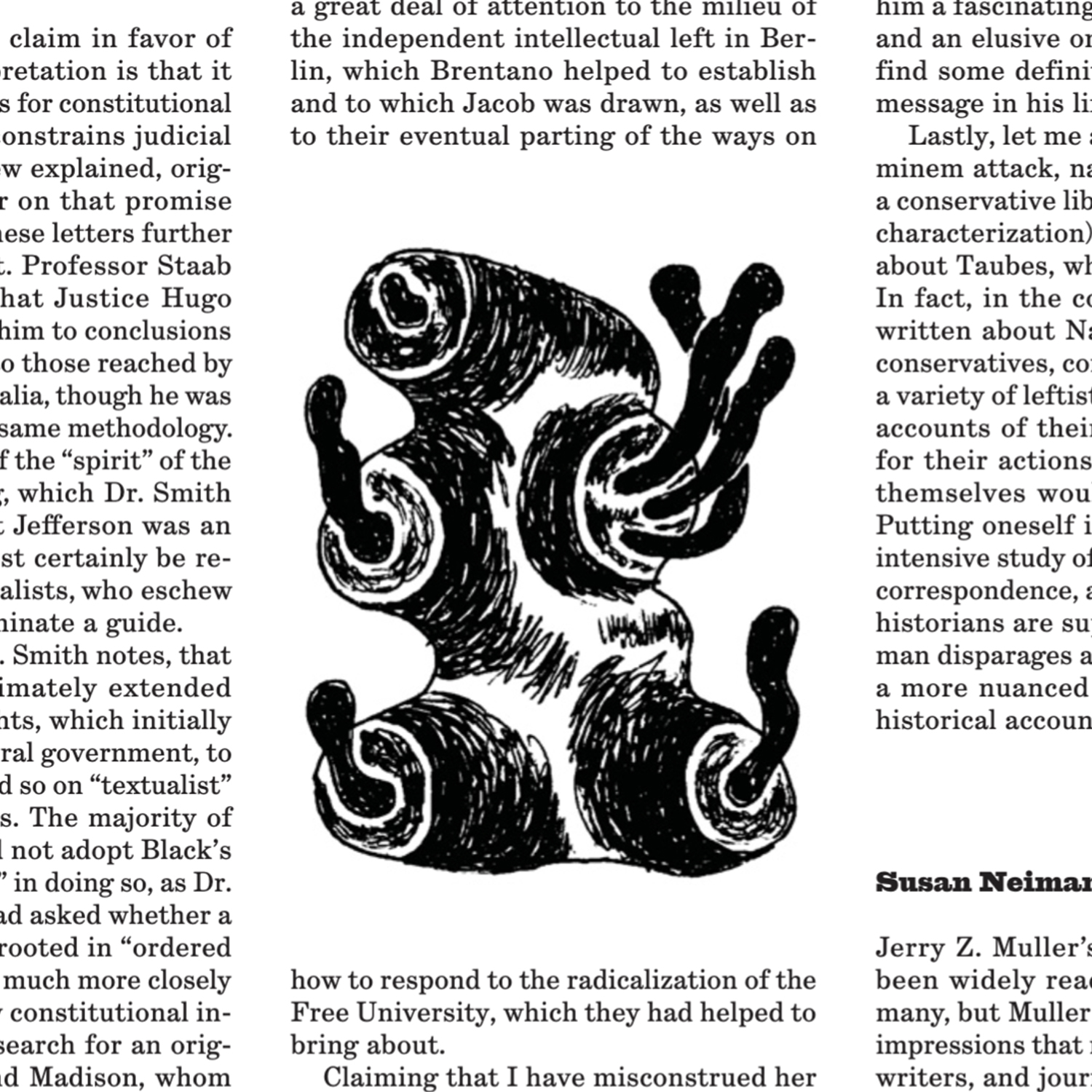 The series art in the issue is by the Berlin-based illustrator Sophia Martineck, who iterates the same forms—inky drawings of birds, scissors, perfume atomizers—in her sketchbook. When I asked if she'd make some abstractions, she delivered exploding, blobbing, tubular wonders.
I usually avoid commissioning an artist twice for one issue, but we chose a second piece by Rachel Levit Ruiz for Elaine Blair's essay on the limits of depicting sexual assault in writing and film. Blair focuses on the testimony, questioning the value of reenactments, and Ruiz's graphic red-and-white painting, Inverso, seemed to me to illustrate the harder to grasp, nonverbal side of trauma. The doubled-over figure in the painting wordlessly conveys the pain of truth and disbelief. How the body speaks is undeniable.
The question of words versus pictures made me think of a powerful, actor-free scene in She Said, one of the films discussed in Blair's review: a slow pan through an empty luxury hotel corridor, overlaid with the famous wiretap in which Harvey Weinstein tries to coerce Ambra Battilana Gutierrez into coming up to his room. This scene did to carpeted hotel hallways what Jaws did to the beach; I can no longer walk down one without thinking of predators.