Skip to Rentals | Personals | Miscellaneous
---
International Rentals
PARIS (SQUARE BERLIOZ—9th arr.), WiFi, 3BR/ 2Bth, beautiful full-floor condo, 4th floor, elevator. www.parisflat4u.com. Tel.: (415) 922-8888.
PARIS—5TH. Blue-state special. Elegant ground-floor studio. 17th-century building, steps from Seine, opposite Notre Dame. Gourmet kitchen. Sleeps three. One-week minimum. rwolff@afroam.umass.edu.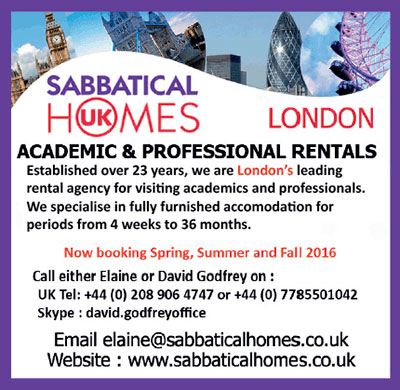 FRANCE/ITALY border. Romantic, spacious garden flat. Breathtaking, uninterrupted Mediterranean views. 2/3 bedrooms. www.ilvalico.eu.
AIX-EN-PROVENCE, Heart of town. Two bedroom, quiet, steps to shops, restaurants; garage; WiFi, patio. Perfect for exploring Provence. $1,450 weekly. greatfrenchrentals@comcast.net.
PARIS 16TH: Large one-bedroom, elevator, métro Mirabeau; très français. All creature comforts. $1450/wk, two week minimum. trips@frenchtraveler.com.
CENTRAL PARIS Elegant, spacious 2 bedroom apartment off Le Marais. www.Parischezhadia.com. (215) 715-2095. hadialefavre@gmail.com.
Real Estate
TANGLEWOOD 8 MILES AWAY; hilltop home in New York Berkshires, 7+ forested acres. Architect-designed; light-filled; mountain views over Queechy Lake to Hudson River and beyond. 3,100 sq.ft., open plan kitchen, DR, and LR; 3 BR & den; 2.5 baths; Sedgwick elevator; 2 WBFs. Screened porch and open deck; 2-car garage. Exceptional value for quality of build. $575,000. (413) 329-1162, Lisa@tkgre.com.
Rentals
ATTN, WRITERS: FALL/ WINTER rental in quiet Orient Village, 3/2 mostly furnished. Water views. Reasonable off-season rates. Greer Nolan (305) 304-4380.
Personal Services
EROTIC EXPLOSION. Let me blow your mind, your ultimate erogenous zone. Provocative talk with educated beauty. No limits. (866) 540-7588.
DANIELLE'S LIP SERVICE. Ebony beauty, adult phone sex, and web cam. (773) 935-4995. www.DaniellesLipService.com.
UNIQUE EROTIC THERAPY. Extraordinary Touch. Unforgettable. Discreet; private. West Village, NYC. By appointment only. (212) 645-4995. www.zeusdarlins.com.
Personals
PARENTS OF MILDLY intellectually challenged, middle aged man, living independently in his own apartment; gentle and sweet, alert and interested in NY theater, art, music, and local social activities, seeks similarly situated woman for a compatible relationship. Please respond to moppettt@gmail.com
NYC MATCHMAKING SERVICE is offering complimentary memberships to men. Meet attractive, accomplished individuals who are interested in long-term, substantive companionship. (212) 877-5151; fay@meaningfulconnections.com.
ATTRACTIVE, FIT, ERUDITE woman, 50, a writer and psychiatrist, seeks intelligent, compassionate male partner for the remainder of the journey. smahler@mindspring.com.
WOMAN WRITER, 63. Playful, fit, Bryn Mawr graduate, loves dancing, nature, Bach, animals and hopefully you. NY/LA, 53–73. janemarlarobbins@gmail.com.
PRIVATE DATING CLUB SEEKS attractive, successful gentlemen aged 30's–60's+ interested in meeting and dating beautiful women. You should be open to enjoying a lasting relationship if you meet the right person. NY, LA, San Francisco, Chicago, Boston, DC, Houston, Dallas, Austin. Reply w/ bio and photo in confidence: Phoebe@SEIClub.com.
WOMAN, 75, PRO-TRUMP, thoughtful, wishes correspondence (letters) with similarly described male. U.S./Europe. NYR Box 68050
BAY AREA MAVERICK, 67; 6'1″; 185 lbs., semi-retired, single, "Tall, Dark, Handsome," seeks attractive, affectionate, middle to late 'Fifties ladylove. NYR Box 68030.
RETIRED CONSERVATIVE RABBI. 73. Riverdale. Seeking educated friend for exploring Manhattan's offerings and intelligent conversation. (904) 374-4963.
5'8″ FIT, 64, ATTRACTIVE, active female, seeks man to share intellect, culture and fun: dancing, theater, music, healthy lifestyle, travel, romance. Prefer active partner, 59–66. NYR Box 68040
ACADEMIC, RETIRED AFTER SUCCESSFUL CAREER at major university. Special interests and work in the humanities and social sciences. Trim, fit, very presentable. Playful, fair, and psychologically comfortable. After long and good marriage, seeks well-educated, romantic, highly literate, reflective woman also at home with affection. In the rapport of talking and listening, shared interests and activities will be discovered. Photo appreciated. NYR Box 68045
BEAUTIFUL, ACCOMPLISHED, ANDROGYNOUS lesbian seeks affectionate woman for long term relationship. Deep thinker, steady driver, space maker. Interests include cycling, wild places, film, and women. 30s–50s. D.C., B'more, NYC. amoinous@gmail.com.
Community Living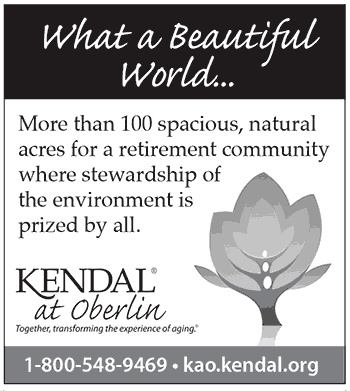 Books
FOR THE CREATIVE FEW: essays, short stories, and a remarkable autobiography by an original mind: John Franklin's "Thoughts and Visions" at thoughtsandvisions.com.
IF YOU STUDIED WITH RICHARD WOLLHEIM and Roland Barthes and published your doctorate with Oxford University Press, then what sort of books do you write later in life? www.degreezeropublishing.blogspot.co.uk.
BOOK SEARCH. Old, rare, and out-of-print books. Marsha J. Shapiro: (212) 595-4219; mshap10424@aol.com.
Travel
"WHEN I'M MESSING around in cars, the world is apple pie," tooted Toad mischievously. www.AirportRentals.com.
Pets
2 AKC REG Male & Female English Bulldogs, free to a good lovely home. If interested, contact me at robin.smith68@aol.com.
Furniture Wanted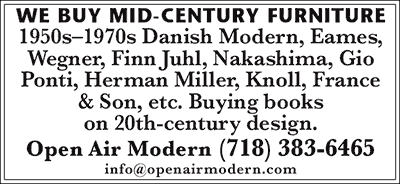 Positions Available
RETIRED PROFESSOR, nearly blind, seeks responsible persons several hours a week to assist in complete book. Duties include reading aloud texts in French and English, typing French texts, take/transcribe dictation, check sources. Résumé and references required. NYR Box 68035
Professional Services
RETIRED AV-RATED ATTORNEY seeks interesting non-legal engagements devising, negotiating, drafting and mediating creative solutions to business, financial, and real estate problems. Will travel as necessary. All discussions held in complete confidence. Please reply to ngogol@mindspring.com.
Miscellaneous
CLIMATE CHANGE; deforestation; desertification; rapidly depleting water resources; loss of biodiversity; land, water and air pollution; overpopulation; consumerism, and the pursuit of perpetual economic growth. What's the solution? www.ecoideaman.com.
JAZZ DJ. Timeless, elegant music for all events. All vinyl. L.A. based, will travel anywhere. www.djparkerLA.com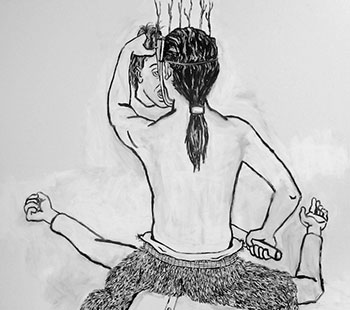 Online Courses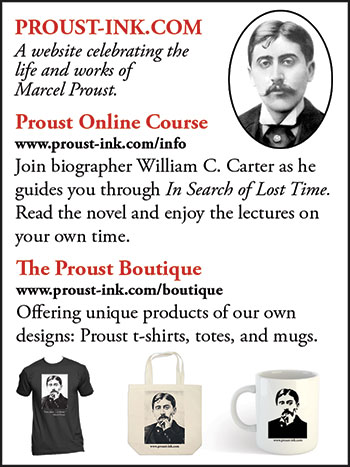 Marketplace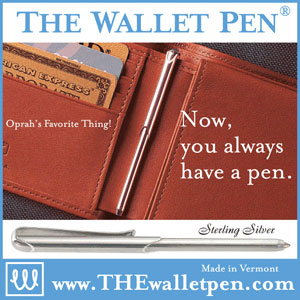 Arts
INTERVIEWS WITH ARTISTS AND WRITERS. Read our new essay on painter Kathleen Gilje. www.LanguageAndPhilosophy.com
DISTINCTIVE ART EXPERIENCES IN NYC—exchange ideas and socialize with other NYC art enthusiasts, learn about art and how to appreciate it. Museum and art gallery walking tours, including high-quality art lectures in Midtown Manhattan. We also design private tours to meet your interests. cherise@nu-garde.com, (914) 263-6367, www.nu-garde.com