Skip to Rentals | Personals | Miscellaneous
---
International Rentals
BARCELONA furnished sunny, quiet two bedroom, 1.5 bathrooms in central Sagrada Familia, family friendly neighborhood, elevator building, Wi-Fi, washing machine, €3,000/month. For further information: sagfamapt@gmail.com.
PROVENCE: Queen Victoria loved it. Matisse and Picasso painted it. YOU will adore it. www.provencemagique.com
ITALY, TUSCANY 5 bedroom, 5 bathroom villa, spectacular views, gorgeous pool and gardens, 5 star reviews. www.LuxuryVillaTuscany.com
PARIS (SQUARE BERLIOZ—9th arr.), Wi-Fi, 3BR/2Bth, beautiful full-floor condo, 4th floor, elevator. www.parisflat4u.com. Tel.: (415) 922-8888.
PARIS ILE ST. LOUIS IV Luxury triplex, bright, quiet, original 20' beamed ceiling, fireplace, modern kitchen/bathroom, washer/dryer, a/c, Wi-Fi, stereo/TV/CD, sleeps 4, maid, non-smokers, photos, owner frenchiedoc@gmail.com.
Real Estate
TANGLEWOOD 8 MILES AWAY; hilltop home in New York Berkshires, 7+ forested acres. Architect-designed; light-filled; mountain views over Queechy Lake to Hudson River and beyond. 3,100 sq.ft., open plan kitchen, DR, and LR; 3 BR & den; 2.5 baths; Sedgwick elevator; 2 WBFs. Screened porch and open deck; 2-car garage. Exceptional value for quality of build. $575,000. (413) 329-1162, Lisa@tkgre.com.
Personal Services
EROTIC EXPLOSION. Let me blow your mind, your ultimate erogenous zone. Provocative talk with educated beauty. No limits. (866) 540-7588.
EXCELLENT MASSAGE In call or Out call. Simply1618@yahoo.com. (212) 880-0088.
DANIELLE'S LIP SERVICE. Ebony beauty, adult phone sex, and web cam. (773) 935-4995. www.DaniellesLipService.com.
SACRED EROTIC… with Zeus' Darlins'. Incredible Lightness of Touch. Private, safe, tasteful. Greenwich Village. (212) 337-9665. www.zeusdarlins.com.
Personals
WOMAN IN HER 70S (considered young looking and attractive) seeks kind male companion. Loves baroque music, Tanglewood, art museums, foreign flicks. Western Mass area. NYR Box 68065
PLEASURE IN READING, travel, theater, film, art, good food and lively discussions to share with a liberal man a few years either side of 80. P.S. not a bad looker. NYR Box 68055
STILL SHAPELY WIDOW, very smart, sometimes merry, also thoughtful, seeks similar widower, born '32-'37—highly educated, solvent, warm-hearted—to connect and see what develops. Princeton/NYC/ Philadelphia. annajd1985@aol.com
NYC & LA, GAY JEWISH MAN, 73, Professor, semiretired, smart, interesting, funny, cute; documentation photography, walking all over in NYC, reading. In search of loving top partner, likely somewhat younger with real career. 1628w9st@gmail.com
PRIVATE DATING CLUB seeks attractive, successful gentlemen aged 30's-60's+ interested in meeting and dating beautiful women… You should be open to enjoying a lasting relationship if you meet the right person. NY, LA, Chicago, Boston, D.C., San Francisco, Texas, Toronto. Reply w/ bio and photo in confidence: Phoebe@SEIClub.com
RETIRED ACADEMIC LESBIAN seeks accomplished, confident woman 60's-70's for long term relationship, Boston area. Avid reader, deep thinker, writer, big heart, ability to connect. NYR Box 68060
AFFABLE, ARTICULATE DC MAN, 56, thin & fit, seeks wise & wanton woman for occasional frolic. 826ef@mail.com
Professional Services
RETIRED AV-RATED ATTORNEY seeks interesting non-legal engagements devising, negotiating, drafting and mediating creative solutions to business, financial and real estate problems. Will travel as necessary. All discussions held in complete confidence. Please reply to ngogol@mindspring.com.
Writer's Services
THERE ARE TWO KINDS OF EXPERTS. Published. Or Not. thoughtleadersintl.com
Travel
"WHEN I'M MESSING around in cars, the world is apple pie," tooted Toad mischievously. www.AirportRentals.com.
THINKING OF PORTUGAL? Don't go without the classic guide to Europe's new "it" destination. Slow Roads! Beautiful Drives Through Portugal for Cars & Motorcycles. Available on Amazon.
Furniture Wanted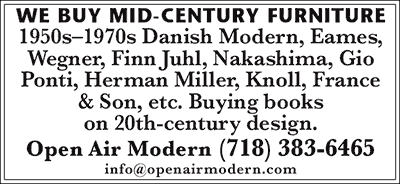 Arts
ESSAYS ON ARTISTS AND WRITERS. How does art's object relate to its subject? www.LanguageAndPhilosophy.com.
Miscellaneous
SAVE THE PLANET! I am brimming with ideas; but lack funding. You can help: by providing funding, and/or by helping spread the word. www.ecoideaman.com
Marketplace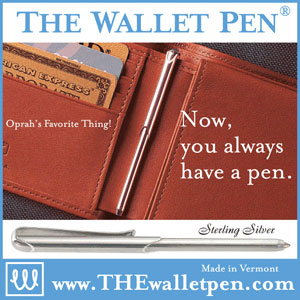 Positions Wanted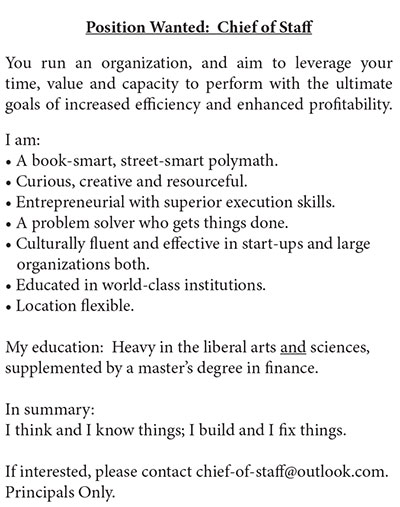 Positions Available