At the height of the shelter-in-place mandates in 2020, the Los Angeles–based artist Kelly Akashi began learning stone carving. It was partly a practical decision—she could carve outdoors and without assistance from others—and partly proof of her yen for centuries-old craft traditions, having already trained in glassblowing, lost-wax bronze casting, lacemaking, and rope making. One result of her stone carving classes is a life-size representation of her nude, supine body. Sculpted from travertine, its buffed beige surface is striated with white marbling that recalls veins and musculature, as if flayed.
When I saw the sculpture, exhibited on a terrace of the San José Museum of Art as part of Akashi's first institutional retrospective, it was littered with violet petals in various states of decay and still slick from a light shower of rain, giving it a funerary air. It's a departure from the experiments that comprise the rest of the show—winding vines and flowers twisted around disembodied hands, knobby glass assemblages suspended from ropes, and beguiling prints that resemble cells on microscope slides. The piece's title, Long Exposure (2022), alludes to Akashi's early work in analog photography, in which she trained as an undergraduate and later at an MFA program at the University of Southern California.
The retrospective includes works of photography and sculpture from the past decade, offering a wide sample of Akashi's practice and a considered view of her recurring concerns with inheritance, biology and geology, and craft. Its title, "Formations," alludes to processes of becoming, which Akashi suggests can also be ones of accumulation and sedimentation. Broadly speaking, Akashi's subject is ecological change. Across her sculptures and photographs, materials are selected for their ability to register strata of human and non-human history. "I want everything to somehow contain a single instant, a moment, and an eternity," she has said.
Akashi's most recent subject is her family's Japanese American heritage and their experience during World War II, when her father, his siblings, and his parents were interned in a camp in Poston, Arizona. Over the last two years, she has made several trips to the site for a series called Witness, memorializing her family history in sculptures that obliquely refer to the camp's material environment.* To make Conjoined Tumbleweeds (2022), Akashi created a wax model of tree branches, which were then repeatedly coated in silica and grain, which dried to form a thick shell. She then placed the shell into a high temperature oven, and bronze was poured into the space where the wax melted away. In the galleries of the San José Museum, the work projects long shadows—echoing Akashi's haunting black-and-white photographs of Poston's abandoned buildings and bare trees. Weep (2022), a large spherical fountain with a craggy surface that drips with flowing water, is a lacrimal surrogate for a nation that has still not adequately reckoned with the violence of internment.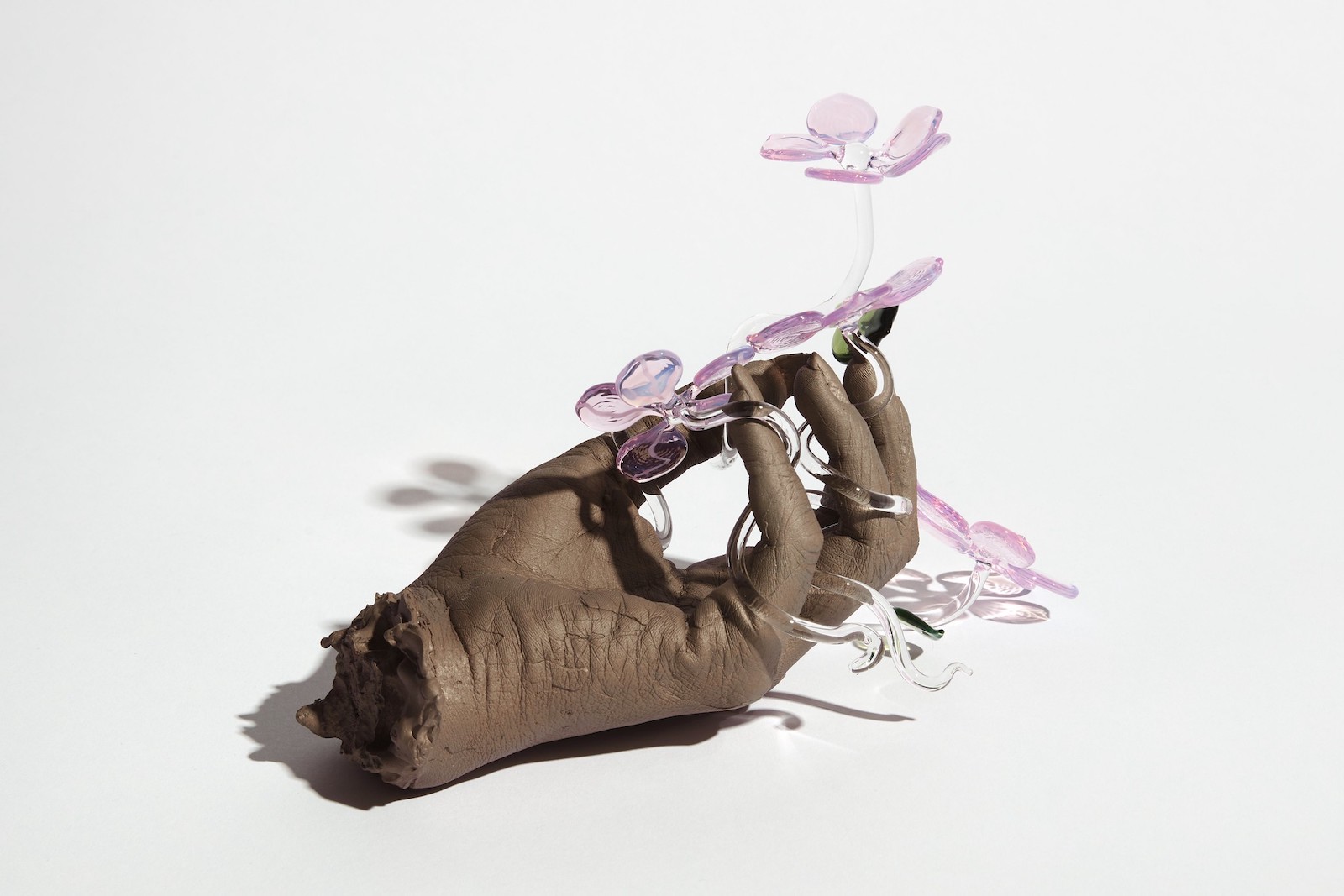 Cultivator (Hanami) (2021), a bronze cast of the artist's hand clutching a spray of glass cherry blossoms, is one of several small sculptures of delicate facture but great force. The parenthetical title refers to the Japanese practice of visiting the ephemeral bursts of springtime cherry blossoms. Other casts of Akashi's hand incorporate objects of sentimental import, such as stones from Poston and the family heirlooms that adorn Inheritance (2022). These sculptures, which rest on plinths of rammed earth that resemble the surface and solidity of stone, crystallize her interest in leveling scales of geologic time. They wed the intimacy of personal effects—a ring belonging to her grandmother—with the earth's unrelenting cycles.
Akashi's representation of anonymous human hands speaks to the human labor that cultivates and grafts the trees that bear flowers and fruit—cultivation that was done in the camps by internees. In her use of stones and cast lead crystal, the work engages both a centuries-long material history of material production and a geologic history that goes back further still. Bridging these disparate scales of time through her artwork is a way of accounting for her family's distance from American culture and society after their internment. "I'm just trying to materialize what came from that fissure," Akashi said in an interview with the artist Julien Nguyen. "Because in a geological timeframe—my father, his family, and me—it's almost the same time; it's been less than one hundred years. It's nothing in terms of the land. But in terms of a human, it's everything." These histories collide in her sculptures but do not overbear them; one can appreciate and apprehend Akashi's playful balance of craft and surface luster before diving into the politics of her project.
In the adjoining gallery Akashi takes her assemblage technique further. Body Complex (2019) is a wooden Wunderkammer that houses found anatomical illustrations of the human body, blown glass (one bulbous pink vessel holds a decaying sprouted onion), and three-dimensional stereolithograph prints of fossilized shells from the collection of the Natural History Museum in Los Angeles. Triple Helix (2020) positions eight glass vessels—which Akashi has referred to as mothers, carriers of DNA—on a cylindrical plinth.
The exhibition frequently narrates these moves between timescales and across the animal, vegetable, and mineral worlds using the somewhat noodly language of reenchantment and "empathy" between objects. The wall text and a catalog essay by the curator Lauren Schell Dickens make reference to the existentialist philosopher Maurice Merleau-Ponty's idea of "being as a thing": that our bodies do not simply exist in space, but are part and parcel of our experience of the world; that we are materials as subject to transformation as any other. But we might also consider Akashi's ecologically-minded work in a longer, more humanist tradition of memorialization: the insistence of preserving, however possible, what has touched us.