One sobering, cautionary revelation follows another in Lost in America: Photographing the Last Days of Our Architectural Treasures, a wonderfully engaging book based on the Historic American Buildings Survey (HABS), the ambitious federal program launched ninety years ago by the US Department of the Interior to assemble a comprehensive visual record of our country's built heritage through newly commissioned photographs and measured drawings. Many of the structures HABS documents are still standing, but the program has always given priority to endangered works, and this volume's title and subtitle announce that the structures it depicts have been destroyed.
Displaying the same polemical shrewdness they deploy throughout their account, the authors, Richard Cahan and Michael Williams, chose a cover image guaranteed to shock any architecture lover. It reproduces the HABS photographer Jack Boucher's 1963 black-and-white action shot of a bulldozer yanking Ulysses S. Grant's oceanfront Victorian Stick Style "cottage" in Long Branch, New Jersey off its foundations, as the delicate relic topples like a house of cards amid clouds of dust. General Grant, the Union hero of the Civil War and then two-term president of the re-United States—the Eisenhower of his time—had been offered the gift of this vacation retreat in a fashionable seaside resort by rich admirers. He demurred, fearing any appearance of impropriety, unimaginable by the debased standards of present-day governmental and judicial officials. However, his acquisitive wife, who had no such scruples, accepted in his stead, and this became the Summer White House. Less than eighty years after Grant's death, it was tossed away as carelessly as a used Kleenex.
Lost in America also informs us that HABS is now the longest extant government agency established under Franklin D. Roosevelt's New Deal. Ever since Ronald Reagan in his first inaugural address famously declared that "government is not the solution to our problem, government is the problem," a well-organized coalition of public and private conservative interests have pursued a methodical agenda to dismantle virtually every beneficial New Deal program (with the possible exception of that proverbial third rail of politics, Social Security). To be sure, HABS is not exactly at its peak these days—it now gets by with just a staff of five—but considering the abysmal decline in government support for the arts in recent decades, it is remarkable that it still exists at all.
Most importantly, its deep fund of visual material—325,000 photographs taken at an astonishing 45,000 sites—is freely accessible to the public on the Library of Congress website and can be reproduced without charge by anyone, a rarity at a time when photo use fees can be exorbitant, and especially so for academics who need images for their underfunded publications. This archive remains a testament to the enduring wisdom of a New Deal initiative that was conceived to provide work for unemployed photographers and architectural historians during the Great Depression, but has turned out to have much larger implications for American architectural culture at large.
HABS was the brainchild of Charles E. Peterson, a twenty-seven-year-old restoration architect who worked for the National Park Service. Eight months after FDR took office, he wrote a memo that proposed this unprecedented undertaking, and his cogent argument caught the attention of his superiors. As he wrote:
It is intended that the survey shall cover structures of all types, from the smallest utilitarian structures to the largest and most monumental. Barns, bridges, mills, toll houses, jails, and, in short, buildings of every description are to be included so that a complete picture of the culture of the time as reflected in the buildings of the period may be put on record.
December 12, 1933 was the first day of business, and before long HABS had thirty-nine field offices across the country, with only a regional manager, a clerk-secretary, and a stenographer in each outpost. Photographers were enlisted whether or not they had experience shooting buildings. They had to provide their own equipment—most often the 4×5 tripod-mounted view camera then standardly used for architectural photography—though HABS bought (and owned) their film.
It was a bare-bones operation. "The photographs are for the purpose of record," the HABS Bulletin admonished soon after the project began, "so that it is more important that they be clear and sharp in their delineation of detail than that they are artistically composed or effective from a pictorial point of view." This stipulation encouraged the default mode known as "HABS light," most readily found under overcast skies that created no complicating shadows and allowed a structure to be shot from any angle, so that a job could be quickly wrapped up and then on to the next.
Some ambitious HABS photographers ignored these strictures and instead produced striking images that flouted the time constraints. These efforts sometimes rose to the level of high art, just as Eugène Atget's had done during the early decades of the twentieth century. He was commissioned by the Bibliothèque Historique de la Ville in Paris to record the vanishing antiquities of the city for posterity, but nonetheless turned in some of the most poetic photographs ever made. Early HABS examples with a similarly transcendent quality include W. N. Manning's poignant 1934 view of the interior of a mid-nineteenth-century Methodist church in Cahaba, Alabama, which had been built by enslaved Black people in 1848 and two decades later was bought by their freed descendants. Gazing at this touchingly unrestored but utterly dignified sanctuary—with its crumbling plaster walls, rows of well-worn pews ending in gracefully curved supports, a quartet of doorways with simplified Greek Revival surrounds, and a Victorian oil lamp chandelier—you can practically hear the gospel praise of its long-gone congregants.
No HABS photographer devoted more time on his own dime to achieving ideal results than the ultra-perfectionist Cervin Robinson, an Exeter-and-Harvard-educated Bostonian who apprenticed with the great Walker Evans and died last December at ninety-four. I knew him well—he and my wife, the architectural historian Rosemarie Haag Bletter, collaborated on the first book either had done, Skyscraper Style: Art Deco New York (1975). But despite Cervin's uncanny ability to make a building look its very best without cosmeticizing it, when I was a magazine editor four decades ago I found him impossible to work with. Oblivious to deadlines, he refused to be rushed, concerned only with realizing his incomparably exacting vision.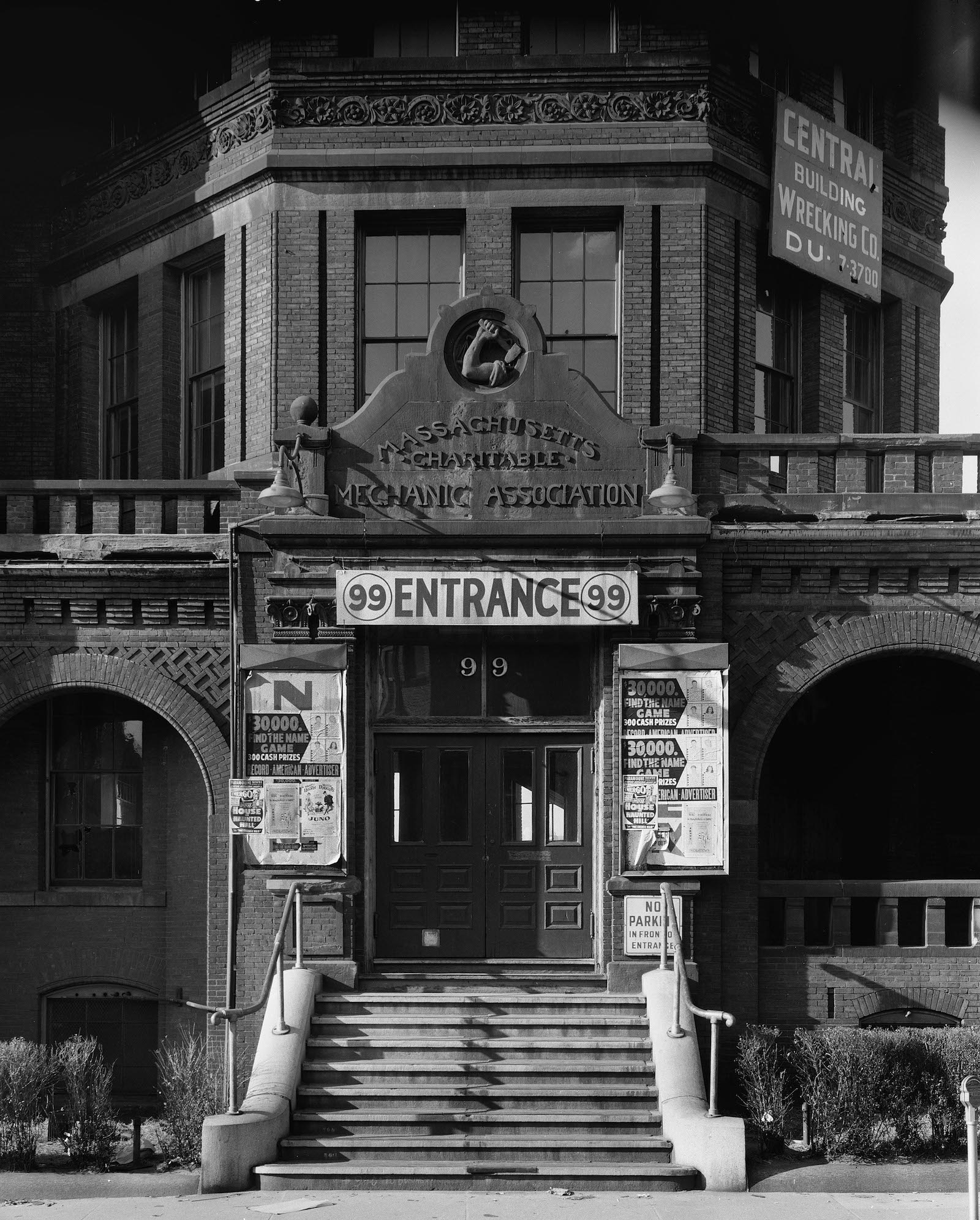 Happily, because the laissez-faire HABS ethos left him largely to his own devices, it got some of his best work, despite his understandable bitterness about the program's meager compensation rates. (He sometimes had to sleep in his car while on assignment.) Lost in America unearths several Robinson gems I'd never seen before, including his pearly 1959 photo of Stanford White's quasi-Gothic Mayhew Primary School of 1897 in Boston, and two messily majestic shots of that city's cavernous Mechanics Hall, an 1881 auditorium-cum-exhibition space designed by William G. Preston and once, the book says, the largest building in the United States. These luminous apparitions are bathed in the non-HABS light Cervin waited so endlessly for: strong but gentle, defining the details but not distorting the forms he was able to capture better than any of his contemporaries.
Even after the destruction of Charles Follen McKim's Pennsylvania Station in New York City, which began in 1963 and spurred historic preservation activism as we now know it, far too few people were galvanized into protecting our endangered landmark architecture. (Robinson also shot Penn Station, and two of his images are reproduced in this collection.) For example, in 1966, Richard Morris Hunt's New York Tribune Building of 1873–1875—a nineteen-story Victorian pile distinguished by its rugged clock tower, and the last vestige of the old Newspaper Row near City Hall—was pulled down to make way for a Modernist high rise to contain all of Pace University in one big, bland, boring box. Yet according to a contemporary report in the New York Times, this grievous trade-off raised "barely a whimper," the same word the authors use for the impassive lack of local response to a somewhat later act of sanctioned vandalism in Wisconsin.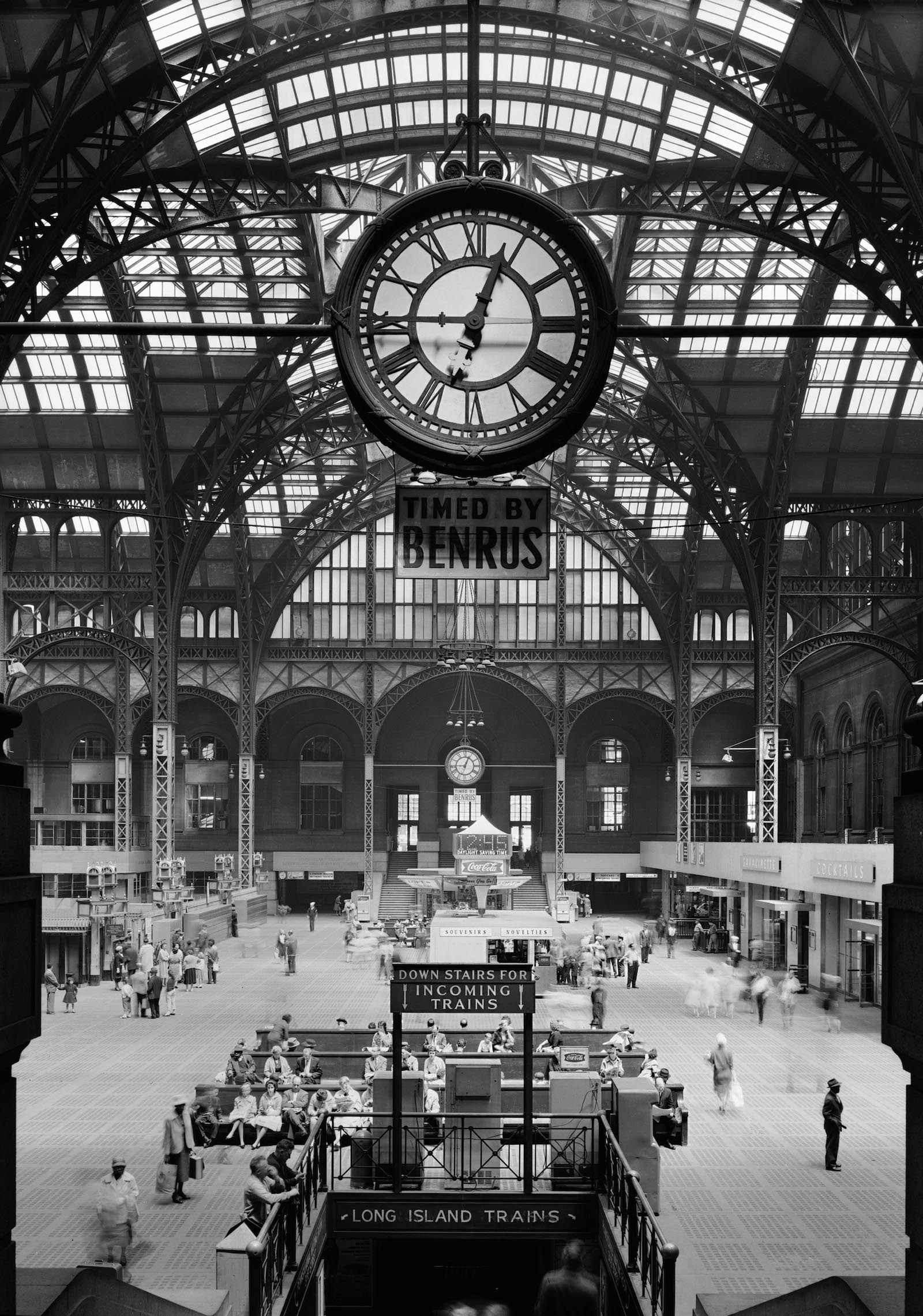 There, Frank Lloyd Wright's Lake Geneva Hotel of 1911–1912—a rare commercial adaptation of his Prairie House concept—was razed in 1970, even though by then he was revered as America's all-time greatest architect. Ominously, Richard Nickel's 1967 HABS photo of this faded but still commanding survivor signals a worrisome disrespect. Tacked onto the long, ground-hugging two-story landmark is a neon sign that touts "The Golden Orchid Cantonese American Cuisine" in kitsch Chinoiserie with upturned fei yan corners, a defacement that looks even more grotesque affixed to the hotel's deeply overhanging roof eaves, a signature Wright motif. (In 1972 Nickel was killed in an accidental structural collapse while he was attempting to salvage architectural details from Dankmar Adler and Louis Sullivan's Chicago Stock Exchange of 1893–1894, which was in the process of being pulled down. He was forty-three.)
By the end of the 1960s, the public was no longer completely apathetic about the trashing of out-of-fashion historic architecture. This shift came to a head in the last weeks of the decade with the scandalous destruction of Grand Rapids City Hall in Michigan, a Victorian Gothic showpiece of 1885–1889 akin to the grand municipal edifices that proliferated throughout Britain's booming Midlands during the Industrial Revolution. The HABS photographer Allen Stross's 1965 bird's-eye view—which reminds me of the obligatory drone shots over nineteenth-century county courthouses on TV true-crime series like 48 Hours and Dateline NBC—shows the richly textured stone-clad structure standing forlornly amid a cleared "urban renewal" site.
Four years later, opponents unfurled a forty-five-foot-long banner down the structure's clock tower emblazoned with the plea "Help Save Me." On the day demolition was set to begin, a thirty-four-year-old protestor named Mary Stiles went even further. She straddled and handcuffed herself to the wrecking ball, and a wire-service photo of her brandishing a "Save Our Tower" sign went viral in newspapers around the world as a symbol of the burgeoning preservation movement. Her bold disruption delayed the building's execution by only an hour.
For me the least effective—or affecting—part of Lost in America is the final chapter, "Doomed," devoted to structures in various states of demolition. Because the impending fate of these buildings was the reason HABS was memorializing them in the first place, their actual dissolution can seem anticlimactic. If there was any drama, it had to do with the determined citizens who tried to save these irreplaceable remnants, which, given the primacy of property rights in the United States, is never an easy task. More to the point is that given the horrendous scenes of architectural (to say nothing of human) destruction in Syria, Ukraine, and now Gaza that have inundated the news media of late, buildings that have been obliterated because of mere stupidity rather than military violence seem infinitely less outrageous. Page after page of picturesque ruins caused by lax landmark laws and public indifference estheticize such needless waste and anesthetize us to this unnecessary evil.
But the very last photo spread of Lost in America delivers a visceral jolt. Turning the page we come upon a generic vacant lot strewn with a few bits of detritus that barely extend above ground level. Save for one telltale palm tree, this might be just about anywhere, and we must consult the caption to find out the exact location. It turns out to be the "after" shot to the "before" of Irving Gill's Dodge house of 1914–1916 in West Hollywood, a pioneering example of Modernist minimalism that earlier in the book is shown in its well-preserved final years. The void left by the senseless elimination of this priceless building, which so easily could have been repurposed for some worthy civic function, symbolizes the neverending struggle still being waged to save our architectural treasures from the ever-resurgent forces of ignorance and greed.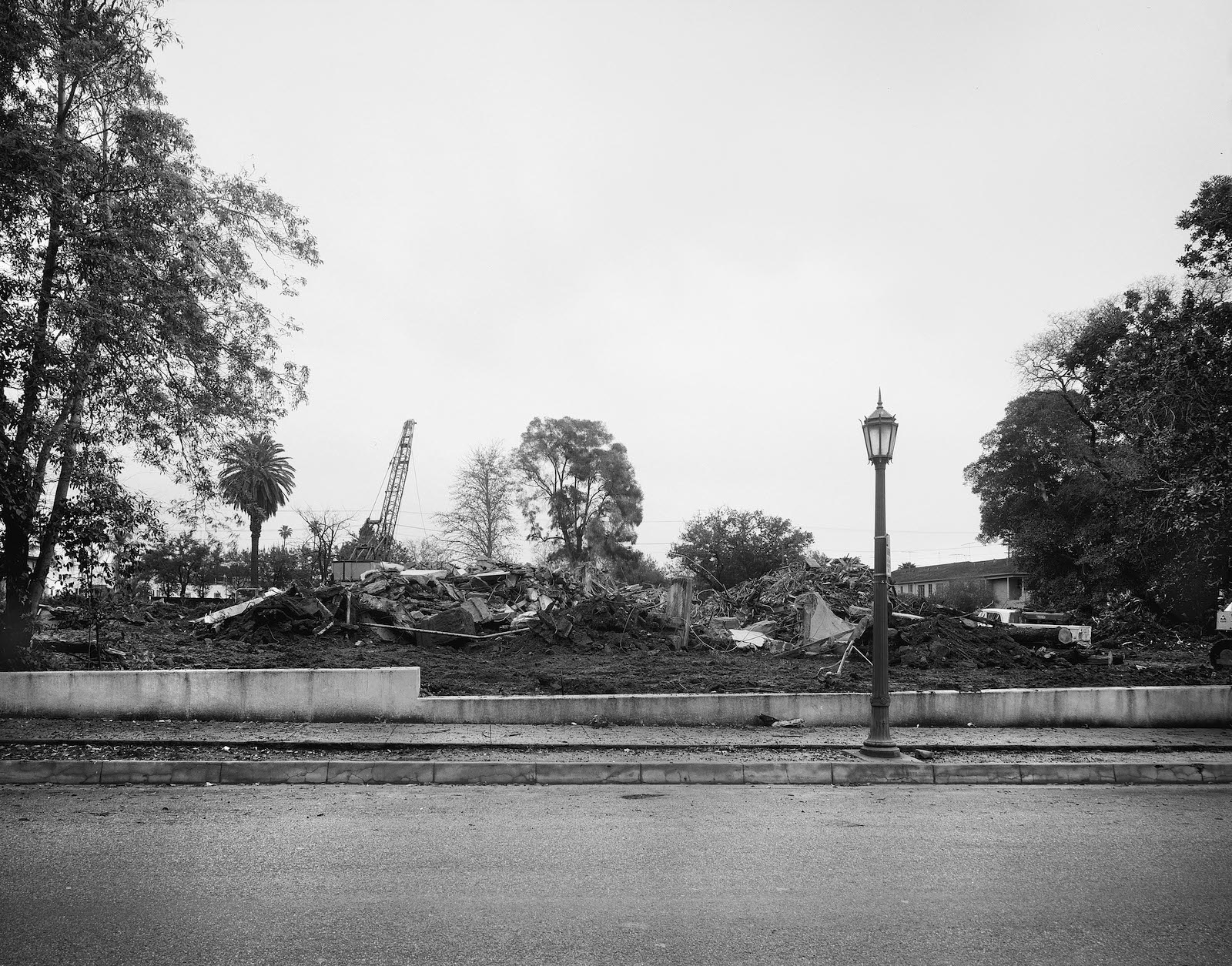 ---
Lost in America: Photographing the Last Days of our Architectural Treasures is published by CityFiles Press.