A dispatch from our Art Editor on the art and illustrations in the Review's January 19 and February 9 issues.
The February art newsletter, written while we worked on the first two issues of the year, comes to you from across the high Sierras, amid the historic rainfall and flooding in California. I flew to San Francisco when the January 19 issue was published and we began piecing the February 9 issue together. The coastal storms forced my plane to make an unscheduled landing in Ontario, California, east of Los Angeles, and the subsequent drive north into the Sierras was dramatic, beautiful, and harrowing. Rain bucketed down through the Central Valley, the sky darkened, then cleared to reveal five rainbows, then darkened again.
The January 19 cover was a nod to music, reading, Cubism, and skin conditions, all of which featured in the issue. Sigrid Calon, a Dutch artist and textile and graphic designer, pulled these disparate strands together in her work SC Series nr. 56, a confetti-strewn grid of color and rhythm. Last year Calon contributed a piece of art to a review by Peter Gordon of a book about recognition by the philosopher Axel Honneth, and I was eager to get more of her gorgeous patterns and unusual symmetry into the Review.
I sent the French Canadian illustrator Alain Pilon a review by Zadie Smith of the film Tár, and he responded with a diminutive Cate Blanchett beneath an impending storm of cancel-clouds. Pilon's work is deceptively simple, betraying a tarot-like sense of fate. In the last two years he has illustrated Laurence Tribe's essay about the poor reasoning behind Dobbs v. Jackson Women's Health Organization, drawn a portrait of Elizabeth Strout, and provided a bleak vision of ruins for Ingrid Rowland's review of a novel about the Vatican during the Holocaust.
Late in the production process, we decided to add Sherrilyn Ifill's article analyzing the oral arguments at the Supreme Court about affirmative action. Instead of rushing to commission an artist, I peeked at Geoff McFetridge's Instagram feed, which, as I've mentioned before, has become a trusted source for visual metaphors for the quarrels on the Supreme Court and in Congress. A 2019 piece of his deftly illustrated Ifill's points about discrimination and racism.
Because the Review has a long tradition, established by David Levine, of illustrating our articles with authors' likenesses, the lion's share of commissions I make are portraits. Finding artists with a facility for flexibility, efficiency, and fidelity is a must. I always look forward to the Milan-based illustrator Lorenzo Gritti's portraits of authors. He never sends fewer than four sketches, and they are bound to be graphic, sharp and in an unexpected color palette. His fourth piece for us is a likeness of the Bronx-born writer, performer, and artist James Hannaham standing on a Brooklyn block, which accompanies Francine Prose's review of his latest novel.
As a lifelong sufferer of chronic eczema, I loved reading Aaron Timms on psoriasis in literature and Sergio del Molino's book Skin. To illustrate the piece, we landed on a 1979 photograph by Dieter Appelt, from a series called Erinnerungspur. To me, it evokes the shame, pain, and anxiety brought by skin disorders.
The Hamburg-based illustrator Simone Goder took on a portrait of Russian writer Eugene Vodolazkin for Gary Saul Morson's review of four of Vodolazkin's books. Goder's delicate style seemed to echo the last lines of Morson's review: "'When you describe a person in a genuine way, you cannot help but love him.'… If only it were so easy." Goder's previous drawing for the Review was a tender portrait of the Swedish novelist Lena Andersson for a review by Sheila Heti.
Tom Bachtell's brushy, dramatic portraits are peerless, and they've appeared often in the Review, but I like assigning him conceptual illustrations, too, because he approaches ideas with the same vigor and line he brings to faces. He sent in nineteen possible sketches to go with an essay by Alexander Burns about the Senate and the Democratic Party. Bachtell's winking, mischievous streak always comes across in his work, whether it's about politics, as in this case, or surveillance, as in his trucker surrounded by eyes that illustrated Zephyr Teachout's essay about surveillance at work from last August.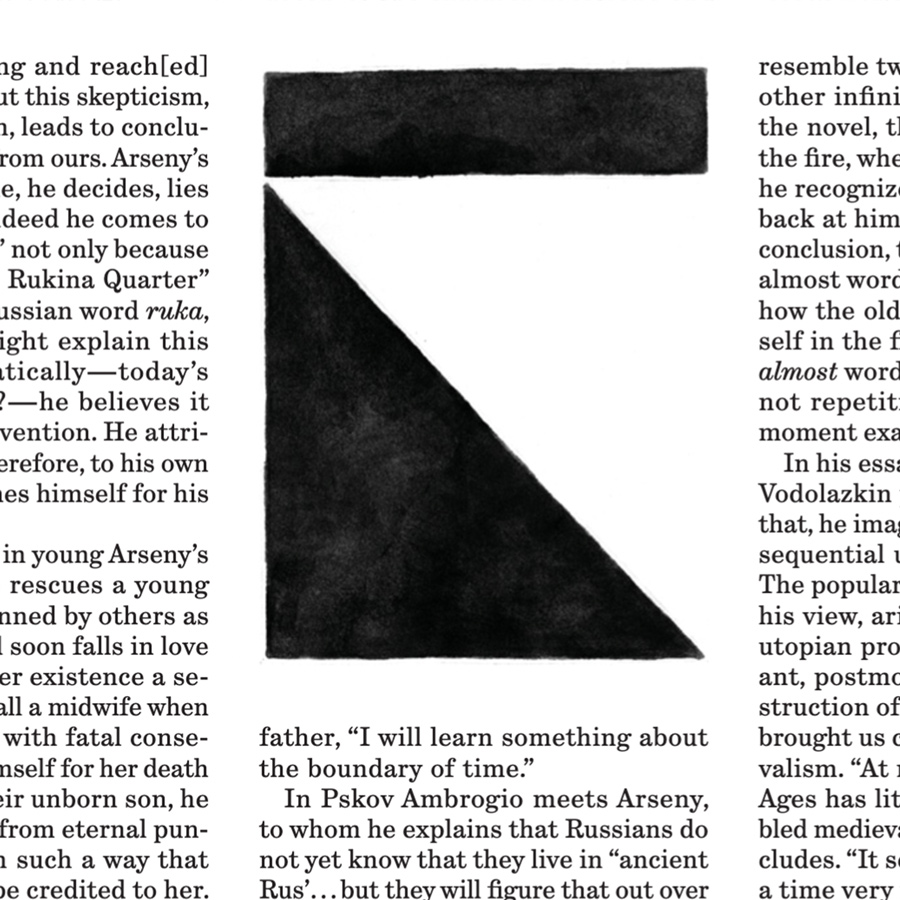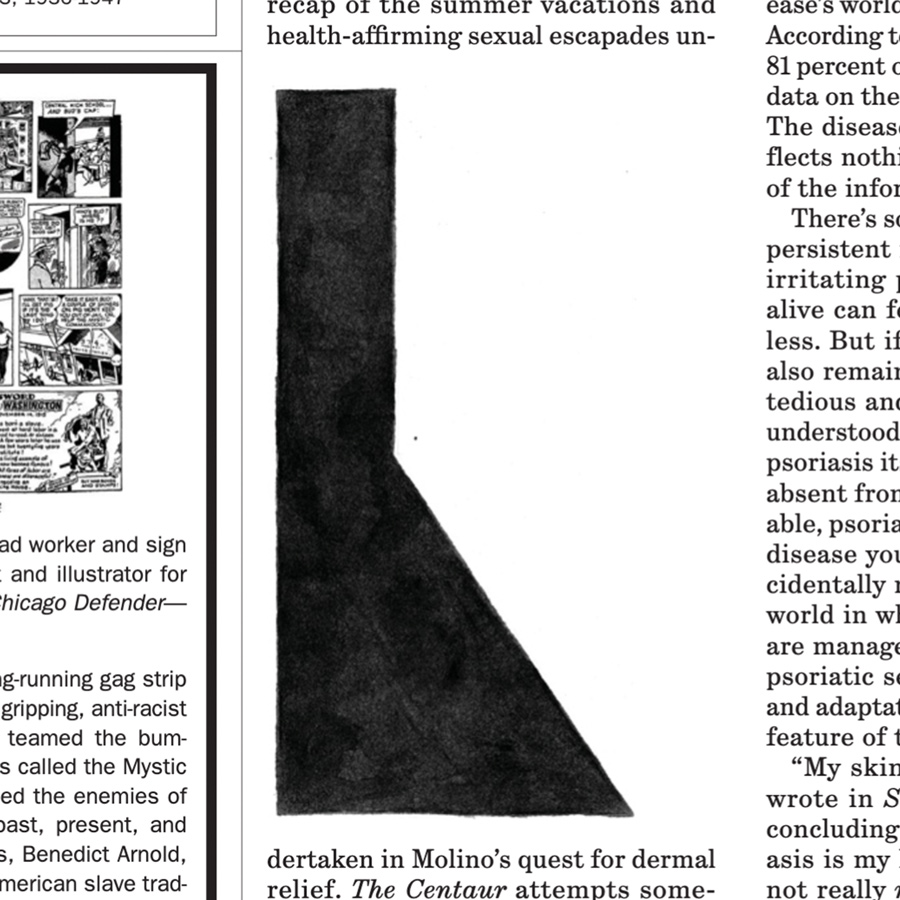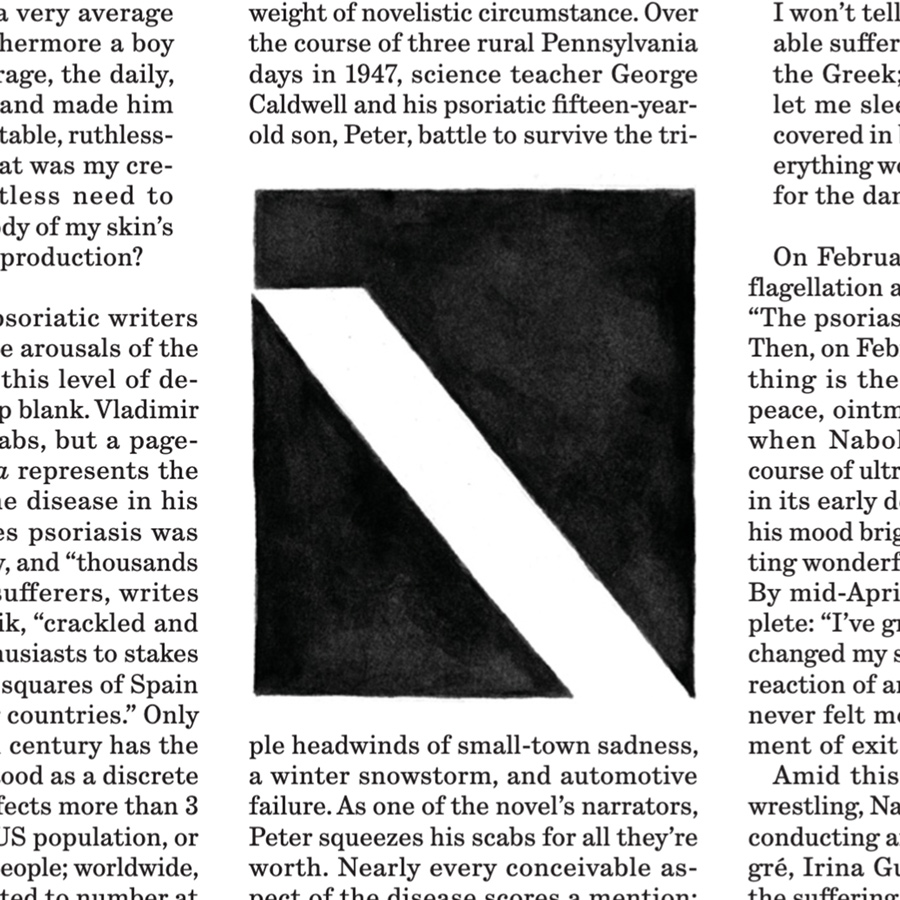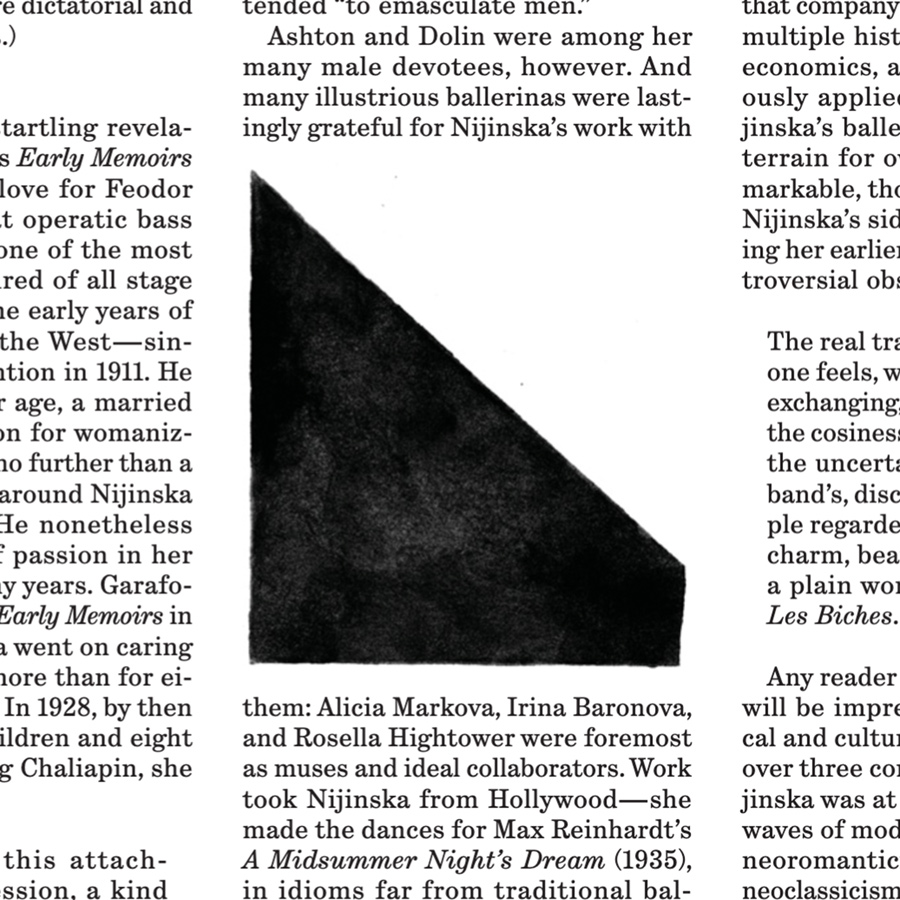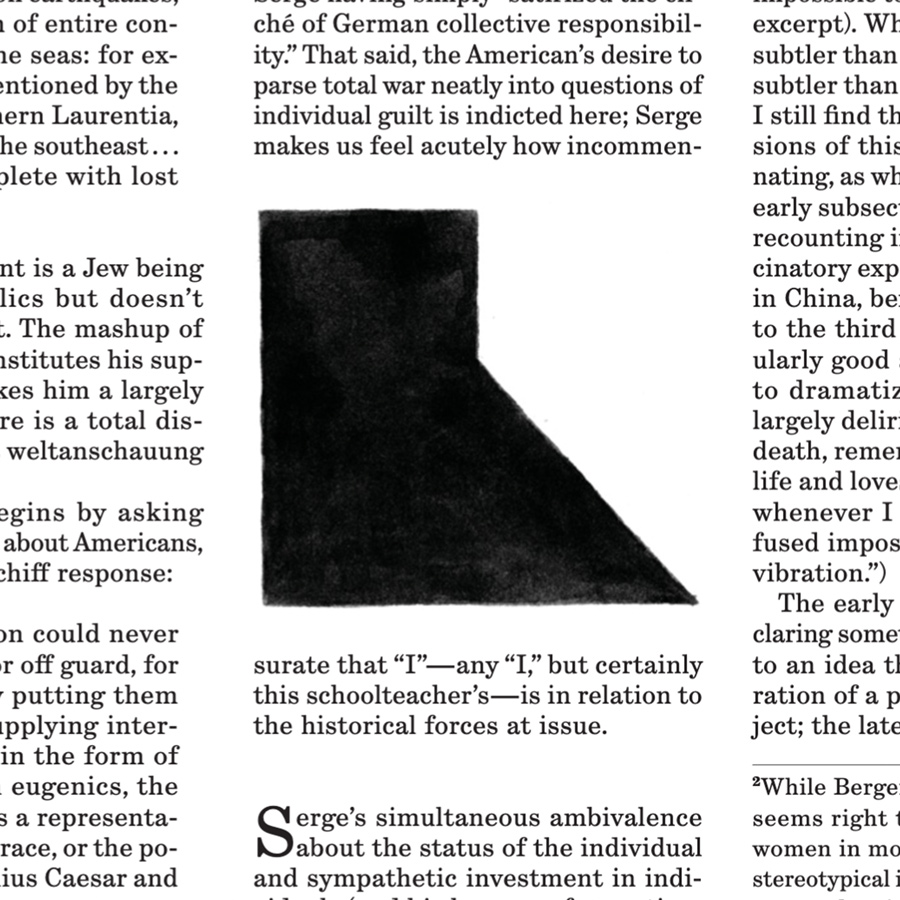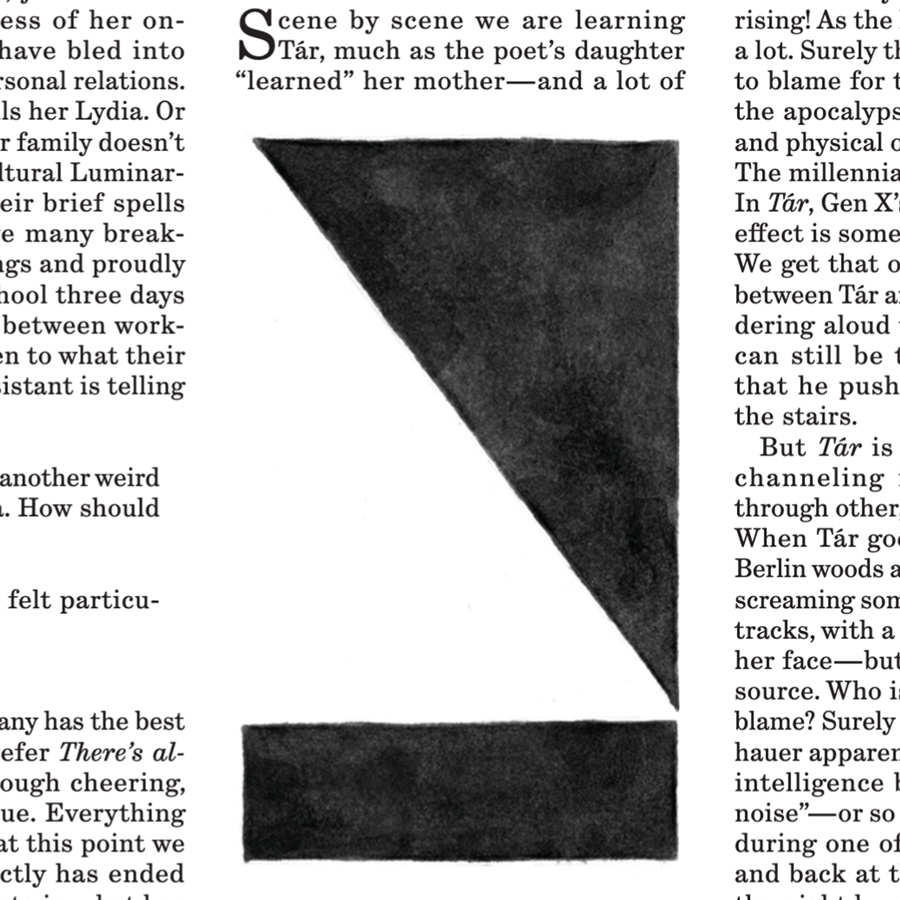 The series art in the January 19 issue was by the New York–based artist Emily Hass, whose painting Altonaer Straße, 2 Plan 8 appeared on the cover of our April 7, 2022, issue. Hass's work addresses negative and positive spaces, histories, shadows, and traces.
I held a meeting to discuss the cover for the February 9 issue from a gas station parking lot near the vast, mucky cattle farms in the San Joaquin Valley, the odor encouraging my pescatarianism and general despair.
As I ate from a bag of California almonds, I thought of Ian Frazier's compassionate review of two books, by Tom Philpott and Sarah Vogel, about mega-agriculture, midsize farms, and how the American farmland is being plundered and destroyed by monocultural food production. "We are eating a big hole in the middle of the Midwest," Frazier begins, "sucking up California's ancient aquifers until the land collapses like an empty juice box."
For our cover, we chose a painting by the artist, designer, and writer Peter Mendelsund from Machines for Seeing, a series of one hundred paintings about the impossibility of language that he made in 2020. The green marks are words made indecipherable by smearing and obscuring. This process seemed to suit the essays about how reading is taught, how the brain is mapped, the poems of Dionne Brand, and the inscrutability of Matisse.
Pulling back onto the highway and passing flooded fields, sodden groups of cows, and cars that had spun out into guardrails, my phone pinged with sketches from Kelly Blair for Christine Smallwood's essay about the podcast Sold a Story: How Teaching Kids to Read Went So Wrong. I'd worked with Blair on a regular basis when I was the art director of The New York Times op-ed page, and her quick thinking and bold graphics reliably made the letters and opinion pieces more legible.
Next, Grant Shaffer sent a number of fantastic sketches of the writer A. M. Holmes for Ben Fountain's review of her new book, The Unfolding. I made a note to upload my own quick portrait of Jean Chen Ho, done for Joan Silber's review of Ho's new novel, Fiona and Jane.
After seven hours of driving, the weather at our destination in the mountains was foggy, windy, and dark. The air outside was filled with the sound of rushing river water and a constant brush drum of wind through the pines. Jillian Tamaki's sketches of Dionne Brand for Anahid Nersessian's review of a new collection of Brand's poetry arrived in my inbox, proving that at least the Wi-Fi was working. I'd been hoping to get Tamaki to do a portrait for the Review for a long time—I have long admired her work for The New York Times Book Review—but knew that she kept herself busy making graphic novels (with her cousin Mariko Tamaki), her own art practice, and teaching. I was delighted when she said she could take a quick assignment.
As another downpour began, the artist Paolo Ventura, who last gave us a wonderful James Joyce, sent a high-resolution file of his portrait of Mina Loy, done for Francesca Wade's review of a new biography by Mary Anne Caws.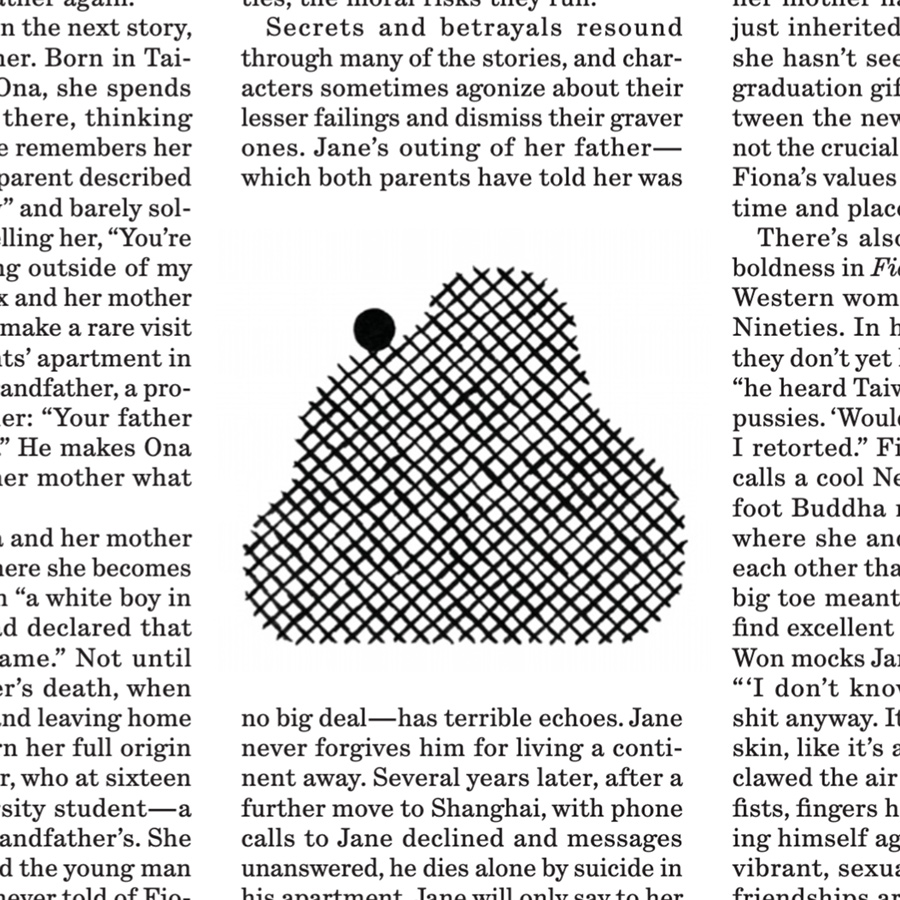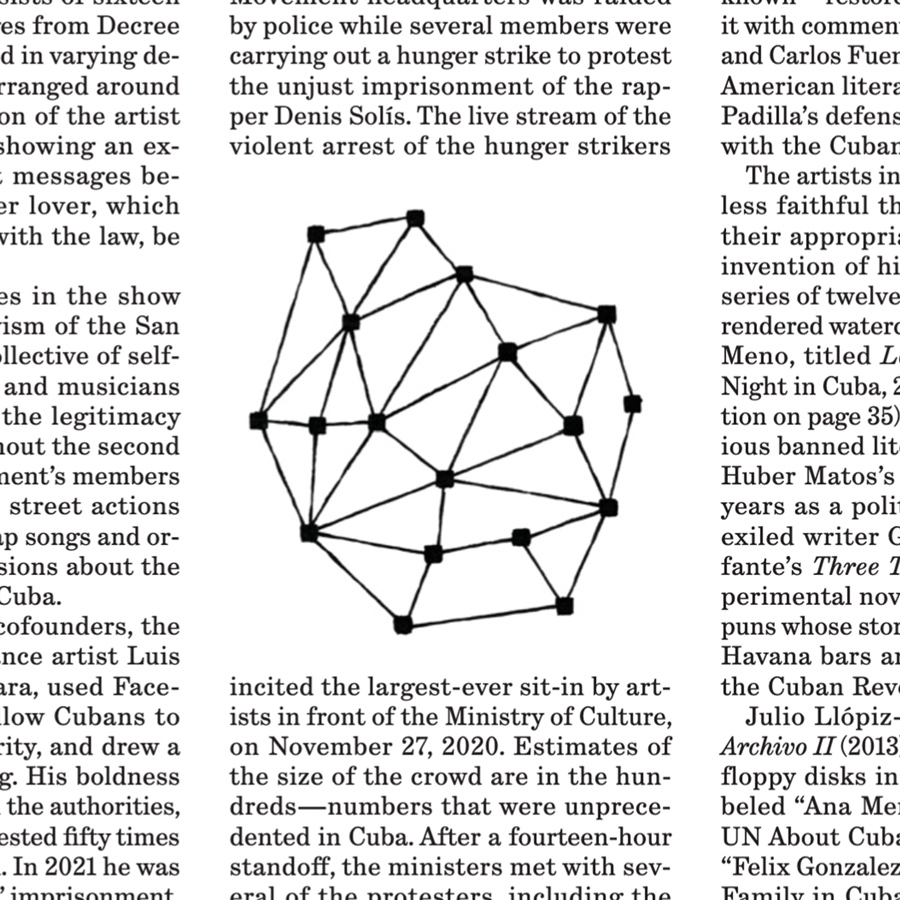 The series art in the February 9 issue is by the French illustrator Jochen Gerner, who I've wanted to work with for decades. Back in the spring, I'd used his drawings in a prototype for the magazine's redesign, to show the kind of abstract work we might publish. When I approached him about contributing the spot art, I showed him the old mock-ups. To my relief, he agreed and sent eleven new pieces, eight of which we were able to use.
I bookended my Review work with walks through the woods and disused mining trails in northern California, over copper deposits and freshly felled trees made weak by bark beetles and the previous year's drought. Everything was drenched, the colors vivid and bright.
As I stamped around in the mud, Frazier was revising his piece, writing about the "pineapple express," the winter-season rainfall from the South Pacific that will increase as the planet warms, brewing a "flood-soup of petroleum, chemicals, molds, sewage-borne diseases, and manure slurries." His account returned my thoughts to the generational divides that Zadie Smith writes about in her review of Tár—"Generational cooperation across time is crucial"—and I thought of my knee-jerk cynicism compared with my daughter's hopefulness. As Smith points out: "It turns out fame is not the answer to everything—saving the planet is."